Beginning December 4th, follow Amazon's rendition of the Twelve Days of Christmas with 12 Days of Deals. With 12 Days of Deals, you'll still have a ton of exciting stuff to look forward to throughout the season.
Come back every day for new savings on great gifts that will help you check off everyone on your Christmas list in no time. No turtledoves or maids-a-milking required.
Amazon's Twelve Days of Deals – Day 7!
12/10: Day 7: Suitcases Brimming—Gifts in luggage and travel
The sight of seven swans-a-swimming might make your guests imagine a trip of their own. But people need more than water and webbed feet to get away, and we're not just talking about adorably tiny toiletries. Check out today's deals to give your guests some inspiration for adventure with amazing items that will help them broaden their horizons without stretching their purse strings.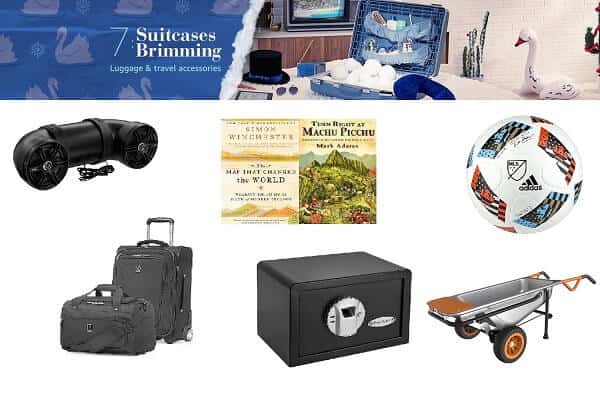 Deals of the Day
All deals are subject to change or cancellation, so please check the site:
12/11: Day 8: Weights for Lifting—Gifts in fitness and activity
12/12: Day 9: LEDs Romancing—Gifts in tech and gadgets
12/13: Day 10: Makers Making—Gifts in crafts and hobbies
12/14: Day 11: Puppies Peeking—Gifts for pets and animals
12/15: Day 12: Gifters Grabbing—Stocking stuffers