Pokémon Go is the one of the most popular games that has come out in recent years. Thinking about what cool gifts you can buy for a friend or your kid who is a Pokemon Fan? Check out the list below. If you have found any other great gift ideas, do drop us a message. Thanks!
I definitely love to get this cute and functional Pokémon Poke-ball grinder for the cook and Pokemon fan. Comes in a gift box.

Want to become a Pokémon Go Master, this ultimate guide provides sufficient information about the game to kickstart your adventure in finding your first Pokemon to fighting battles. This book also has detailed instructions with walk through, tips, secrets, tricks, and more.

This official Pokemon backpack is a great gift for boys (and girls). It feels study and is of a good size for most ages – probably more suitable for ages 7+.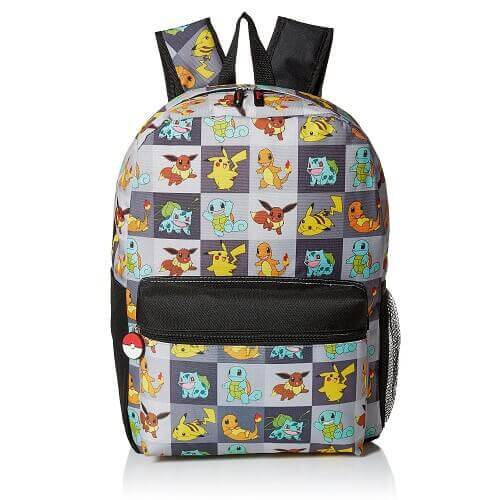 Turn into a Pokémon Trainer with the Clip 'n' Carry Poké Ball Belt! The set includes one adjustable belt with a Poké Ball design, one Poké Ball, one never released before Net Ball and one 2" Pikachu figure. The belt holds up to six Poké Balls at once. Additional Poké Balls and figures are sold separately.

Intended for adult fans of Pokémon, the outsides of these headphones look like Poké balls. These wired headphones do not just make you look cool, but they can also answer phone calls and control your music player with the inline one-button controller (if your device supports it).

Now you can further augment your already augmented reality of Pokémon Go with these Pokémon Noise Isolating Earbuds. Decorated with little Poké balls, these earbuds come with a total of 3 sets of silicone tips so you can get just the right set to block out the outside world while you're busy training.

This Arceus set from the Mythical Pokémon Collection includes an Arceus pin, a previously-unreleased Arceus promo card, two booster packs from the special Generations expansion, and a code card for the Pokémon Trading Game Online. Available on Amazon.com too.
Turn your favorite Pokémon into folded art with the easy origami projects in Pokémon Origami: Fold Your Own Pokémon! 80 full color pages featuring 48 pages of instructions and all the special sheets of origami paper needed to complete 10 Pokémon!

Pokémon come in every shape and size, which is what makes them so fun to collect, but that can also make drawing each of them a unique challenge. This kit gives you the right tools and then walks you through drawing 15 of the most popular pocket monsters.