How was your Valentine's Day? Did you manage to find a "perfect gift" for your special someone?
According to a recent report from a survey conducted among 1,000 U.S. adults on January 16 using Google Consumer Surveys,  the top dream Valentine's Day gifts for both men and women are as follows: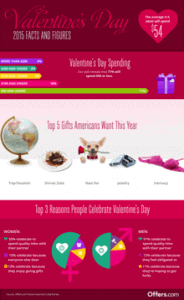 Top Dream Valentine's Day Gifts (Men & Women):
43% want a trip/vacation
17% want a dinner out
8% want a new pet
6% want jewelry
It is interesting to note that through the survey, it is found that the majority are celebrating Valentine's Day to spend quality time with their partner.
Top Reasons Women Celebrate Valentine's Day:
To spend quality time with my partner (55%)
To give gifts (13%)
Top Reasons Men Celebrate Valentine's Day:
To spend quality time with my partner (51%)
I feel obligated (12%)
It seemed that spending quality time with each other on Valentine's Day (e.g. on a trip or a dinner out) is more meaningful to couples than giving and receiving gifts. With our busy lifestyles, I believe that Valentine's Day is a great time to remind ourselves to spend quality time with our loved ones, enjoying each other's company!
As Valentine's Day fell on a Saturday this year, my husband and I took a "trip" (not overseas) to downtown Singapore. We also took a deliberate effort to spend quality time with each other, to do our favourite activity which is to take a stroll around our neighbourhood. As we live near the town area of Singapore, we are just a short distance from Clarke Quay, a nice riverside area. We passed by the Swissotel Merchant Court which we held our wedding in last September, and reminisced about our wedding day and the love journey we have had. The weather was great for walking that day and we held our hands, simply chatting and enjoying each other's presence. After that, we went home to eat a simple but yet delicious homecooked dinner prepared by my mother-in-law.
I saw on Facebook that many of my friends received flowers and soft toys (teddy bears), a dinner out at a nice restaurant. I believe that I received a Valentine's Day gift that is most unique. As I sprained my back one day before V day, his gift for me was a Tiger Balm Plaster to soothe my backache. He gave me the Plaster, wished me Happy Valentine's Day and even helped me to paste it on. :) He even helped me to run an errand as I was not in the condition to do it due to my sprained back. I really felt warm and fuzzy inside from the love, the timely and practical gift and the act of service he has shown me on this day.
Indeed, every day can be Valentine's Day if we take a conscious effort to love our partners through observing their needs and try to bless them with gestures of love by meeting their needs. It might not be necessarily giving a physical gift, it could be an intangible gift like spending quality time, providing a service, giving sincere words of affirmation through a card or verbally or even just a tender look and touch to convey your affections to each other. On a side note, it is good to know your partner's love language and express your love through the right "gifts" that coincide with their more dominant love language. You can find out more about love languages from the book, the 5 Love Languages: The Secret to Love that Lasts.