The perennial pressure is on to find Mom a Mother's Day gift that expresses how much you love her. There are a ton of standard Mother's Day gifts that will surely put a grin on Mom's face: Candles, flowers, chocolates, framed photos. The most meaningful Mother's Day gifts are usually judged by thoughtfulness, not dollars. If you are not sure what to get Mom this year that would bring more than a grin on her face, we have a few Mother's Day gift ideas better than a bouquet of flowers that she will surely love.
1) Personalized Cutting Board
Although this is a popular gift for newlyweds, it would also make Mom swoon. Personalize it with her name, or better yet, a family tree to give Mom a keepsake she'll treasure forever.
Get it on Etsy.
2) Monogrammed Rolling Pin
Does your mom bake as much as a pastry chef? Try giving her sweets a signature look with a personalized rolling pin. You could customize it to roll out a simple, sweet message or just a fun shape that Mom likes a lot!

Get it on Etsy.
3) Superhero Mom Mug
Moms are the real superheroes. They work harder than anybody. Maybe it's time you showed your mom that you know she's a superhero with this Superhero Mom Mug.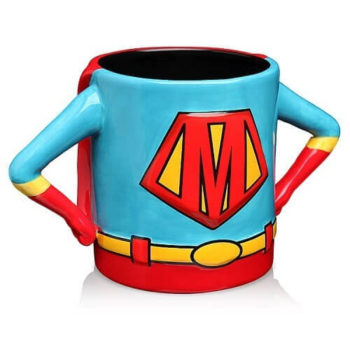 Get it on ThinkGeek
4) Custom Photo iPhone Case
You are your mom's best gift. But for those times when you can't be by her side, an iPhone case with your photo on it will probably suffice. Shutterfly can create an iPhone case emblazoned with any image on it for $39.99. (If she doesn't have an iPhone, cases for other devices are available and run about the same price).

Get it on Shutterfly
5) A Vintage Poster of a Favourite Show or Film
Imagine the look on your mother's face when she realizes you've hunted down and framed an original poster from her favourite movie. Foreign-edition and vintage posters look especially stylish mounted on the wall.
Get vintage posters like this on Etsy.
6) NoCry Cut Resistant Gloves
Tell your mom you feel hurt when she cooked for you and cut herself. Get this Best Cut Resistant Gloves on the market today! With the high quality and super comfortable protective gloves, you won't have to be worried about Mom slipping and accidentally cutting herself.


Get it from Amazon.
7) Personalized Stamped Charm Bracelet
What do your mom never tire of doing? Yes, talking about you and your siblings! This stainless personalized steel charm bracelet can be added with names and birthstones of your siblings and yourself. It's also a great gift for grandmothers, who can add charms for all her children's children.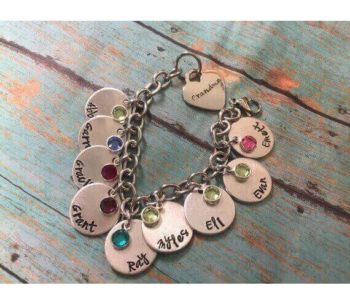 Get it on Etsy.
8) Shiatsu Massage Pillow with Heat
Is your mom too busy for spa? Why not get her a relaxing massage right in the house or in her office? Zyllion's new Shiatsu Massage Pillow with Heat lets her enjoy massage anywhere she likes! The ultra compact, ultra slim body only takes up 6cm (a little over 2 inches) of space. With the no-fuss adjustable straps, she can secure the massage pillow to her favourite chair.


Get it on Amazon.
If all things fail, consider what about half of nearly 1000 moms across America wished for: flowers and card, food, clothing/shoes, and well, a phone call from you!