Newborn nails are so soft and tiny that many parents find it a challenge to safely trim nails of their little ones, especially those who tend to fidget a lot. Yet it is important to trim their nails as they are sharp and the babies may scratch themselves. This Baby Manicure set is suitable for kids from 0 months up to several years of age. Many security measures have been implemented into the tools' design to prevent unnecessary accidents.
The best time to trim the nails is while the baby is sleeping. Another good time is right after a bath, when your baby's nails are softest. For infants in their first few weeks of life, try to use only the emery board as their mails are very soft and pliable. Do so by holding the fingers firmly and using the emery board to give them a little file down so they won't be so sharp.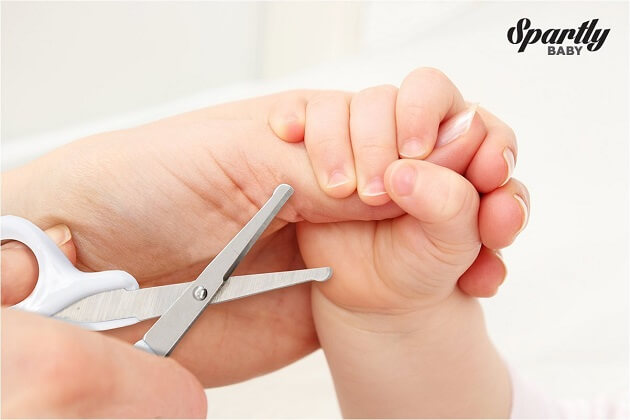 When the kids are older, cut their fingernails along the curve of the finger, and their toenails straight across using a sharp nail clipper or nail scissors. Then use an emery board to smooth out rough edges.
Clippers can be used when the nails get longer so they are relatively easier to trim, without cutting the babies. The pair of nail scissors should have rounded edges, so they are much safer to use for your babies and children.
Once in a while, you might accidentally cut a bit of the skin and the baby may bleed a little, but don't be too harsh on yourself. If that happens, simply rinse the cut under cool water, then wrap a tissue around your baby's finger and hold it with a little pressure. The bleeding usually stops in a couple of minutes.
In the markets, there are nail clippers with magnifier as well as those with lights, but those features are not really helpful when the baby is moving a lot.
This Baby Manicure set of the Baby Nail Clipper (with catcher that prevents the nails from 'flying out'), Round-tipped Scissors and Baby Nail File are possibly the tools you ever needed to trim the nails of your babies. The nail clipper has a hole so that you can connect it to your key holder.
The manufacturer stands behind their product so much that they offer get a LIFETIME WARRANTY in case of any manufacturing defect.
Right now you can take advantage of their introductory promotion and grab a pack of 2 Baby Nail Care Kits at a discounted price.
Spartly Baby Nail Clippers Kit including Scissors and Baby File - Pack of 2 - Perfect Manicure Set, Spartly
Price History