Do you always find yourself digging around the car for items whenever you need them? With this backseat car organizer, now you can make your road trips stress-free and keep your backseat passengers (including your kids) happy.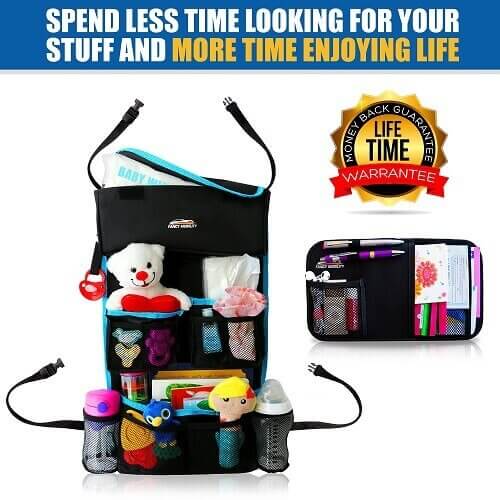 SUPERIOR QUALITY – Hand crafted with excellent stitching and made of durable materials that are waterproof, easy to clean and completely odorless, the backseat organizer will never tear or come loose. In fact, the back of seat organizer also serves as an excellent kick mat to protect your car seats from kicking feet. Plus, you'll get a lifetime guarantee!
PERFECT FIT – Install the backseat organizer in minutes with its extra-long, adjustable top and bottom straps that allow flexibility and make this car organizer a perfect fit for any vehicle. It stays tight to the seat, and the bottom strap slides down so that you can't see it on the front seat.
EXTRA STORAGE & VERSATILITY – With extremely deep pockets and strong elastic linings, the backseat car organizer is designed to perfectly hold all of your children's storage needs securely in place. Storing items like books, iPads, cd's, tissues and more not only makes it a great car storage and organizer product for adults, but also the perfect gift for everyone! It can be used in the bathroom or bedroom too.
EXTRAS INCLUDED – Comes with a free car visor organizer for the driver. Simply slip this extra organizer over your sun visor and keep all your travelling documents and essentials safe and at your fingertips. You'll also get an e-book on travelling with kids, tips and tricks video tutorials and a lifetime guarantee.
Makes a great gift for drivers with or without kids who want enjoy a clutter-free driving experience. Check it out at Amazon.com.
Backseat Car Organizer - Kids Toy Storage - Comes with Visor Organizer, Fancy Mobility
Price History