How do you get kids to join you in cooking? Well, Curious Chef's cooking utensils are designed with little hands in mind, including easy to grip handles, sturdy bases, convenient color coding, and wide pouring spouts. This gives every family with kids the opportunity to spend quality time together in the kitchen.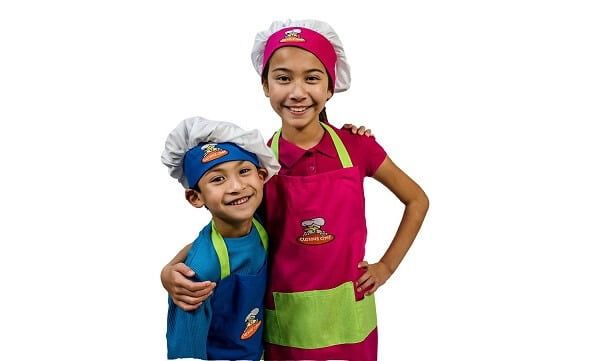 All the tools in the Curious Chef 30 Piece Caddy Collection are designed specifically for little hands and to be child safe (appropriate for children ages 4+). Soft-touch handles ensure a firm grip, and the safety features, such as specially designed cutting surfaces, provide peace-of-mind for the parents. Nylon tools are heat safe to 420°. Silicone tools are heat safe to 450°. And all the tools are dishwasher safe and BPA Free.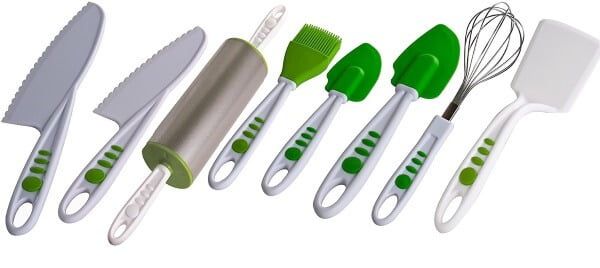 This set includes:
– a carrying caddy (with a non-skid base and easy-to-grasp handle) features slots for 7 tools on one side with bulk storage on the other side
– a non-stick rolling pin
– medium and large silicone mixing spoons
– stainless steel whisk
– nylon cookie turner
– nylon frosting spreader
– pastry brush featuring a unique guarded blade
– large poly spoon
– vegetable peeler
– serving tongs
– ice cream scoop
– pizza cutter
– the medium and large silicone mixing spatulas
– 6-piece measuring spoon set
– 6-Piece measuring cup set
– Every parent's favorite small, medium and large nylon plastic knives that feature a serrated cutting edge with blunt tip to easily cut food but not skin
This is the perfect set of kitchen utensils for kids! It comes in a Gift Box as well.
Curious Chef 30-Piece Chef Caddy Collection, Tailor Made Products, Inc
Price History
Statistics
| | | |
| --- | --- | --- |
| Current Price | $69.99 | 27th February 2020 |
| Highest Price | $69.99 | 21st December 2019 |
| Lowest Price | $59.99 | 11th October 2019 |
Since 11th October 2019
Last price changes
| | |
| --- | --- |
| $69.99 | 21st December 2019 |
| $68.30 | 2nd December 2019 |
| $59.99 | 11th October 2019 |
Curious Chef TCC50186 11-Piece Kids' Chef Kit, Pink/Green, Tailor Made Products, Inc
Price History
Statistics
| | | |
| --- | --- | --- |
| Current Price | $18.59 | 27th February 2020 |
| Highest Price | $19.99 | 14th January 2020 |
| Lowest Price | $18.59 | 16th February 2020 |
Since 14th January 2020
Last price changes
| | |
| --- | --- |
| $18.59 | 16th February 2020 |
| $18.99 | 9th February 2020 |
| $19.99 | 14th January 2020 |
Curious Chef 3-Piece Nylon Knife Set, Curious Chef
Price History
Statistics
| | | |
| --- | --- | --- |
| Current Price | $7.99 | 27th February 2020 |
| Highest Price | $8.94 | 11th October 2019 |
| Lowest Price | $7.99 | 9th February 2020 |
Since 11th October 2019
Last price changes
| | |
| --- | --- |
| $7.99 | 9th February 2020 |
| $8.94 | 11th October 2019 |