GoSun Sport Solar Stove uses nothing but sunlight as its fuel to cook a variety of food items even under cloudy skies.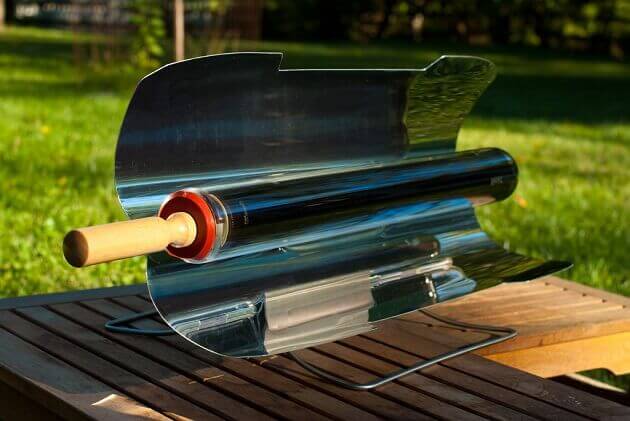 This fast, environmentally-friendly, portable solar cooker uses mirrors arranged in a parabolic design that works effectively in retaining 80-90% of all the solar energy it catches.
Weighing 7 lbs (3.18kg), and measuring just 24″ (61cm) long x 8″ (20cm) tall x 5″ (13cm) wide when the unit is close, the GoSun is convenient to bring along as the rest of your camping gear.
To cook, simply place your food items inside the cylinder-shaped cooking chamber, open the lid wide, and face it towards the sun. Up to three pounds (1.4kg) of food can be cooked at a time, enough to feed up to four persons.
With the sun shining bright, the GoSun can reach temperatures over 550°F / 290°C and cook a meal in as little as 20 minutes, like a conventional barbecue.
The standard package includes a durable borosilicate, evacuated glass tube cooking chamber, two foldable parabolic reflectors that fold to protect the tube like a clamshell, a stainless steel cooking tray, a rugged scrubby cleaning tool that attaches onto the tray's end and stainless steel carrying handles.
Fast: Cooks a meal in as little as 20 minutes, reaching temperatures above 550°F/ 290°C.
Cooks When Cloudy: You don't have to see the Sun to solar cook! The GoSun is so effective almost no day is off limits!
Portable: Deploys in seconds and collapses into a durable package. GoSun anywhere!
Fuel-Free: No mess. No flames. No cost. Always prepared for delicious! Versatile: Steam, bake, fry, roast and boil, anything is possible inside the tube.
Two Year Warranty: The tubes are durable, made of borosilicate glass (like Pyrex®). If it breaks, we've got you covered.
You can find out more from the GoSun website as well. Check out other GoSun products such as the GoSun Sport Pro Pack.
GoSun Sport: Easy, Delicious, and Versatile Portable Solar Cooker, Applied Sunshine LLC
Price History
Statistics
| | | |
| --- | --- | --- |
| Current Price | $249.00 | 8th May 2020 |
| Highest Price | $249.00 | 14th January 2020 |
| Lowest Price | $199.00 | 6th December 2019 |
Since 11th October 2019
Last price changes
| | |
| --- | --- |
| $249.00 | 14th January 2020 |
| $227.95 | 21st December 2019 |
| $199.00 | 6th December 2019 |
| $228.50 | 11th October 2019 |