The iRing Universal Masstige Stand Holder is not just a stand holder for your phone, but it doubles up as a safe grip, allowing you to hold your device in any position so you can take pictures at any angle, without having to worry about dropping your phone.
The iRing can turn 360º and the hinge can swivels 180º; in addition, the friction hinge mechanism allow the phone to be fixated at any angle, making it great as a horizontal or vertical phone stand.
Using a special type of reusable self-adhesive (STIXX), the iRing can be detached at any time, without leaving any residue, and reattached. Dust can be washed out using clean water to restore strong adhesiveness.

It has a compact and sleek design; the thickness of iRing is kept at 6.1mm, so you probably won't feel it in your pocket.
The hinge and core parts are made with metal (Cnc Processed, a patent-pending technology), ensuring that the iRing can withstand pressure. The plate is constructed using Poly Carbonate, which is a rigid engineering plastic providing more durability.
The package comes with the exclusive iRing Micro Hook Mount, which enables you to safely mount your devices on any flat surface including in cars.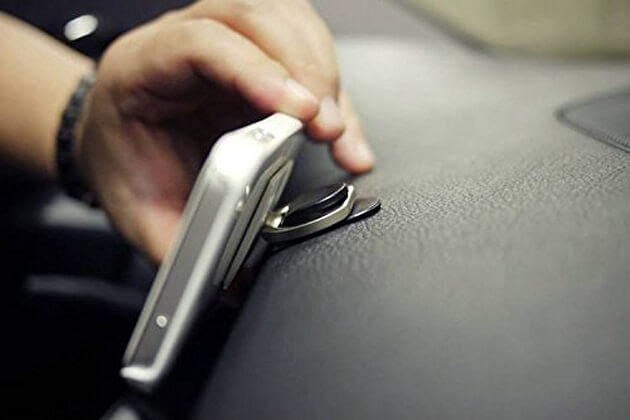 The iRing comes in four different colours: Jet Black, Lovely Pink, Pearl White, Vanilla Mint.
The Bunker Ring, a close competitor of iRing, is great as well. But as it does not have a flat ring surface, it is more wobbly if you want to place the phone vertically at certain angles. The Bunker Ring has a 3-month warranty though.
iRing Universal Masstige Ring Grip/Stand Holder for any Smart Device - Black, iRing
Price History
Statistics
| | | |
| --- | --- | --- |
| Current Price | - | 1st July 2018 |
| Highest Price | $19.95 | 6th March 2018 |
| Lowest Price | $15.00 | 28th April 2018 |
Since 6th March 2018
Last price changes
| | |
| --- | --- |
| $15.00 | 28th April 2018 |
| $19.95 | 12th April 2018 |
| $17.59 | 10th April 2018 |
| $17.61 | 9th April 2018 |
| $18.44 | 7th April 2018 |