The J2 Microfiber Towel is actually a set of 2 super-soft microfiber towels: one large (27″х51″ or 70cm x 130cm) and one small (14″х27″ or 35cm х 70cm). What's amazing about them is their high absorbance and durability. Even though these towels are thin, they can very quickly absorb moisture which exceeds their weight by about 5 times. Yet they can dry very fast too! Its high quality material and reinforced banding makes it able to resist fraying and rubbing.


The J2 Microfiber Towel is versatile. It is not just great for training in a gym or exercise studio, but also as a camping towel. These towels come with hanging loops which keep them off the ground anywhere, especially during camping. This set of towels comes rolled up in an attractive mesh bag with has a pull string closures, which makes it easily stored.
It is also a wonderful replacement of the towels at home and in the hotels. It's lightweight and easy to take care of. On hot days, you can soak one with water, and let it dry on your head to cool you down!
Makes a great gift for the traveller, camper, and the sports lover! Comes in 3 colors: Blue, Grey and Pink.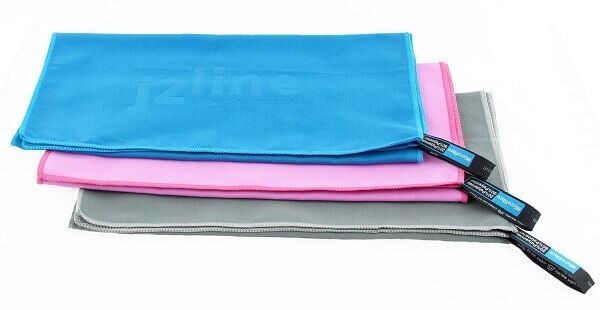 PREMIUM FABRIC, SUPERIOR TO NATURAL MATERIAL – Made with cutting-edge technology, this microfiber towel is soft, extra absorbent, stain and wear resistant. The unmatched suede feel makes it great as a travel towels or a camping towels.
FAST DRYING – Just wring this quick-drying towel and use it again. After use hang it to air and it will be ready for packing within minutes.
ANTIBACTERIAL – This gym towel made of specially treated fabric takes good care of perspiration. After soaking sweat it inhibits bacterial growth and ensures hygiene while remaining odor-free.
LIGHTWEIGHT – It adds hardly any extra weight and is handy as a hiking or camping towel. Very compact, it easily fits into a small bag. Easy to carry around and perfect for use on the road.
ZERO RISK– Free replacement without any reason and without returning the product for exchange
j2 Line Set of 2 Camping Towels and Bath Towels - Super Absorbent & Quick Drying! Travel, Beach, Sport, Bath or Gym + FREE Hand/Face Towel & Mesh BAG, j2 Line
Price History