Kooba Magnetic Target Game is a portable revolutionary game that combines the action and dexterity of darts with the strategic play of a board game into a new sports!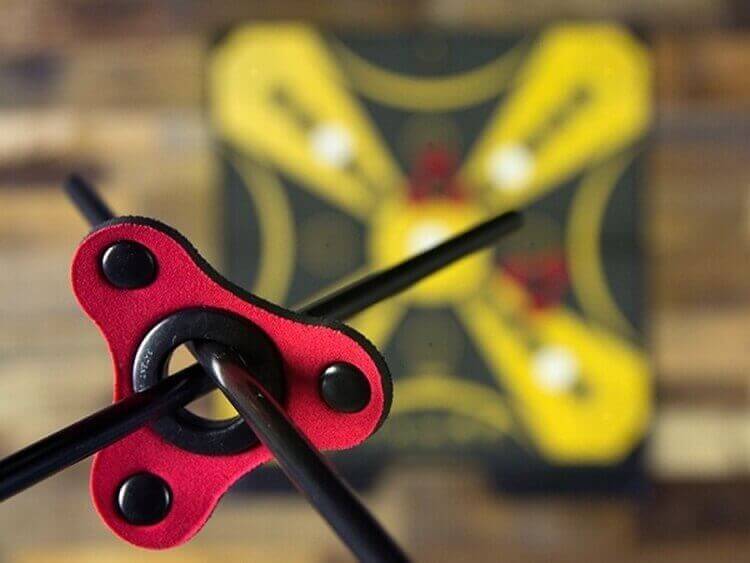 In place of pointed tips of darts, it uses magnets to stick a projectile onto a board. And you don't hurl the projectiles (called Aeros) with your hands; instead, you launch them using a pair of metal sticks designed to send them soaring toward the Kooba target at the center of the board. To do so well will require a little getting used to for most people – just like any sports. Use the sticks correctly and the Aero flies off at surprisingly high speeds, before running smack into the board with a satisfying thud.
Long time toy designers, Scott Shanks and Stephen de Zordo wanted to create something new and totally different. Although Kooba is reminiscent of dart games, the propulsion achieved through its rod and magnet combo is like no other. The silkscreened board is elegantly designed, and its quality construction makes it surprisingly sturdy given its lightweight portability.
The best part of Kooba, though, are the game mechanics. Rather than simply using pure skills to score points like most dart games, it plays out like a board game, requiring the use of strategy in positioning your Aeros, attacking your opponents, and even blocking their path. The rules for three variations of play are included, but Kooba can be modified dozens of different ways.
Designed for two to four players, each fast-paced round only takes ten-fifteen minutes. From the living room to the backyard, kids, teens and adults alike will be lining up to give this sure fire family favourite and party game their best shot.
The set comes with one foldable board (for easy portability), a pair of launching sticks, three Aeros magnetic darts, and four markers (yep, markers, which work kind of like tokens in regular board games). It comes with a card listing rule sets for the official Kooba game, as well as two alternative games you can switch to just for kicks.
Game Board Materials: Textured vinyl with naugahyde outer casing, and sheet metal
Stick Materials: pultruded fiberglass
Aero Materials: neoprene, neodymium magnets, durable impact resistant plastic center ring and magnet fasters
24″ x 24″ folding portable gameboard, 22″ Rods
Can be used outdoors or indoors
2-4 players, Ages 14+
Includes: Folding Kooba board with integrated stick handles, 1 pair of shooting sticks, 3 magnetic aeros, 4 magnetic scoring markers, 1 Kooba bullseye, and instructions with 3 games
Board can be wall mounted using Command hooks, nail, screw, or tied to trees
Care instructions: Wipe clean with cloth
Dimensions: Game board folds open to 22″ x 22.5″ playing surface. Closed: 13.5″ x 22.5″
Weight: 4.5 lbs

Available now, Kooba retails for $69.95.
Check out some videos here:

Price History
Statistics
| | | |
| --- | --- | --- |
| Current Price | - | 8th February 2020 |
| Highest Price | $69.00 | 13th November 2019 |
| Lowest Price | $69.00 | 13th November 2019 |
Since 13th November 2019