The multi-award winning LifeStraw personal water filter is the most advanced personal water filter available today. A "Best Invention of the Year" (Time magazine) winner,  it enables users to drink water safely from most contaminated water sources. LifeStraw is ideal for emergency preparedness, as well as for campers and hikers who may be drinking from rivers or lakes and are unsure of the water safety. Because LifeStraw is lightweight (weighing just 2 ounces) and compact (only 9 inches long), it is also great for travellers who do not want to rely on the quality of local water.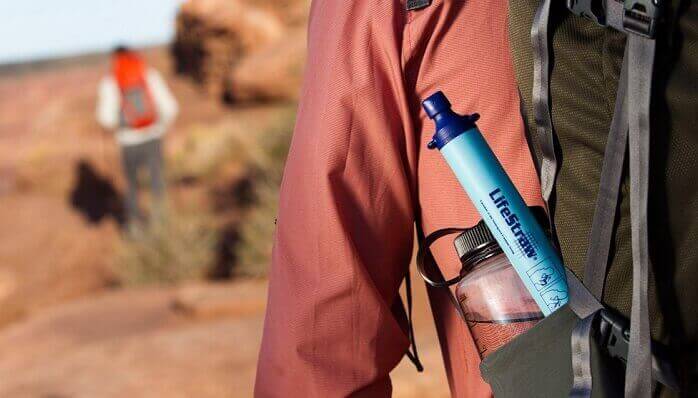 The straw-style filter design lets you turn up to 1,000 liters of contaminated water into safe drinking water, filtering out protozoa and bacteria.
LifeStraw Personal Water Filter surpasses EPA guidelines for E. coli, Giardia, and Cryptosporidium oocysts, rigorous standards for water filtration.
Features & Benefits
Lets you drink directly from streams and lakes or from a bottle
Uses advanced hollow fiber membrane technology to filter up to 264 gallons or 1,000 liters of water to 0.2 microns
Removes 99.9999% of waterborne bacteria, including E. coli and salmonella
Removes 99.9% waterborne protozoa, including Giardia and Cryptosporidium
Reduces turbidity (muddiness)
No aftertaste: LifeStraw doesn't use iodine or iodinated resin chemicals and is BPA-free
Meets US EPA drinking water standards
Ultralight: weighs only 2 ounces or 57 grams
Portable: only 9" (22.5 cm) long and 1 inch (2.5 cm) in diameter
Requires no electrical power, batteries or replacement parts
BPA free and contains no chemicals
Raw materials meet US Food and Drug Administration regulations and standards
How LifeStraw works
LifeStraw Personal Water Filter uses advanced hollow fiber technology. This highly efficient method of filtration requires no chemicals.
How to use your LifeStraw filter
Simply place one end of the LifeStraw tube into unfiltered water (a water bottle, river, or even a puddle) and suck clean water through the top of the straw. Follow the instructions provided for your first use.
Check out LifeStraw Go which incorporates award-winning LifeStraw technology into a refillable water bottle so you can carry safe drinking water with you on the go.
Tried and tested in the harshest conditions
The award-winning LifeStraw technology was originally introduced in 2005 as an emergency response tool to filter water often contaminated following natural disasters. Today, LifeStraw® is used in water filtration products around the world.
LifeStraw Follow the Liters
For each LifeStraw product you buy, one school child in a developing country will be provided with safe drinking water for an entire school year. Visit LifeStraw Follow the Liters where you can see the impact of consumer contributions. There, you can follow the program's progress by viewing the most up-to-date measurable data on program achievements and hear stories from children who have been positively impacted.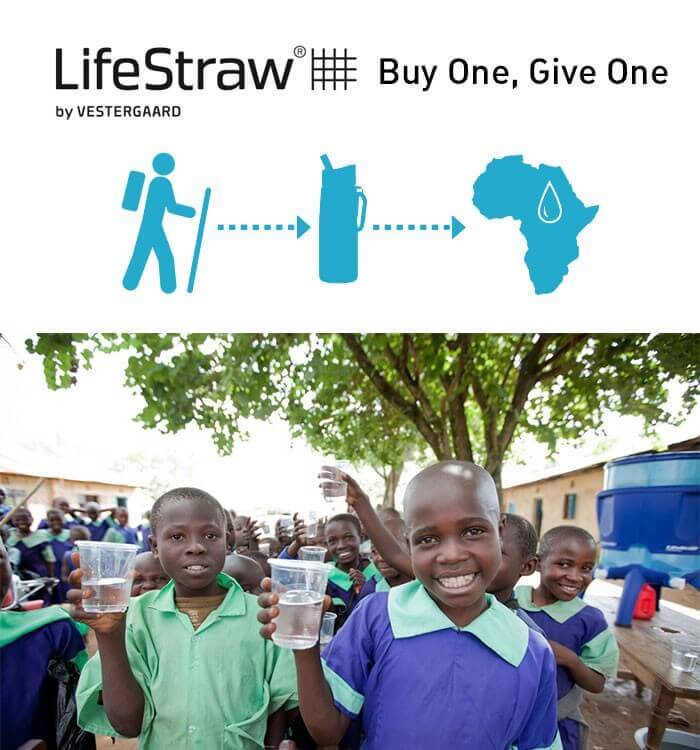 Product Videos
Buy on Amazon.
LifeStraw Personal Water Filter for Hiking, Camping, Travel, and Emergency Preparedness, LifeStraw
Price History
Statistics
| | | |
| --- | --- | --- |
| Current Price | $17.47 | 1st June 2020 |
| Highest Price | $17.47 | 16th February 2020 |
| Lowest Price | $11.99 | 7th December 2019 |
Since 7th December 2019
Last price changes
| | |
| --- | --- |
| $17.47 | 16th February 2020 |
| $15.81 | 7th February 2020 |
| $11.99 | 7th December 2019 |