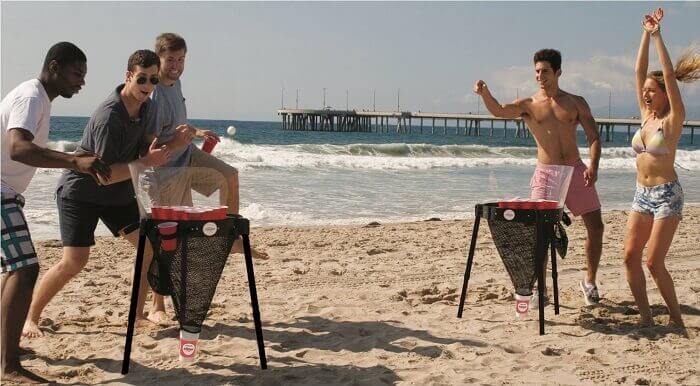 MegaPongo Beer Pong Tailgating Game is a smartly designed, durable, all-in-one toss game with everything you need to play beer pong (minus beer); and it's portable too!
Featuring two beer pong game units for easy portablity, MegaPongo weighs 11.5 lbs. Each game unit allows up to 19 target cups for traditional 10-cup play or many other configurations. Suggested beer pong variations include Around the World, Ring of Fire, H-O-R-S-E , Chaos.
A clear backboard and ball collection system for each game unit helps reduce chasing balls during beer pong play. The backboard and even the game units and legs are great places to apply your favorite team decals.
Target cups are held in place so there's less spillage and mess. And, the game board will hold many sizes of beverage cups, from 15 to 18 ounces. Each game unit also includes cup holders for the wash cup and your drink.
The game units stand on sturdy, collapsible legs which can be adjusted for many surfaces.
MegaPongo comes with 12, high-quality ping-pong balls for play.
Each game unit takes less than a minute to set up for beer pong play. After you're finished playing, both game units collapses, rolls up, and fits into a package that's the size of a case of beer.
Cleaning is easy; you can either wipe it off, or hose off the entire thing and let it dry.
MegaPongo was selected by Tailgater Magazine as the 2013 Best Tailgate Game. MegaPongo is Made in USA from components sourced globally.
Do check out the MegaPongo Tailgating Game Upgrade Kit at Amazon, or you can purchase them altogether at the Mega Pongo website too.
MegaPongo Beer Pong Tailgating Game, MegaPong LLC
Price History