One of Time Magazine's 25 best inventions of 2014, the Osmo Gaming System for iPad consists of a unique new reflective camera, game pieces and mobile apps that transforms the physical space in front of the iPad into a digital game board.
Osmo uses the iPad less for its screen than its ability to let people interact physically in front of it. This may be attractive to parents who are rightly concerned about the amount of screen time their children spend in front of the TV, computer, smartphone and tablets.
Osmo is amazingly innovative and it provides the immersive and interactive experience of technology.
The team behind Osmo, young parents out of Stanford and Google, invented Reflective Artificial Intelligence (AI) technology. The device itself consists of a simple white iPad stand that props up the tablet in portrait mode, and a small red clip that covers up the iPad's front-facing camera, which flips the camera's field of view 90 degrees downward. Once in place, an internal mirror, combined with superb optical recognition and AI capabilities, turns the table top in front of the iPad—an area a little larger than a piece of paper—into a digital game board.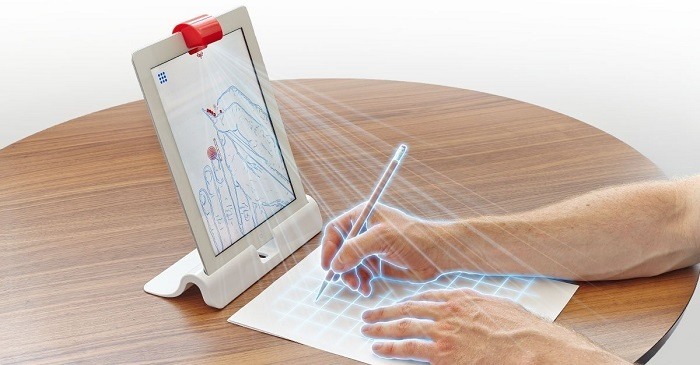 Osmo brings back the essence of play and encourages core life skills (such as creative thinking and social interaction; problem solving, visual, spatial, and abstract thinking skills) by creating an open environment for kids to problem solve, gain positive feedback and interact with one another. Osmo can be played by the whole family, anywhere, and on any surface – with no need for wifi or a battery and instinctively brings people together, as the first truly multi-generational connected gaming device.
Osmo currently works with four free Osmo learning game apps: Tangram, Words, Newton, and Masterpiece. To see the apps demonstrated, check out the videos below.
Features:
Groundbreaking system encourages creative thinking and social interaction by expanding gameplay beyond the screen
Games can be played and even created by the whole family, anywhere, and on any surface
Set comes with reflector, base, and Words, Masterpiece, Tangram and Newton Games
Works with latest iPads: iPad 2, iPad 3, iPad 4 iPad Mini, iPad Mini Retina, iPad Air
All four games can be downloaded for free from the iTune App store, only Word and Tangram require physical pieces
More videos:
Masterpiece – Bill Gates
Masterpiece – Steve Jobs
How to Play Tangram for Osmo
How to Play Words for Osmo
How to Play Newton for Osmo
Alternative stores:
Price History
Statistics
| | | |
| --- | --- | --- |
| Current Price | $125.00 | 3rd April 2020 |
| Highest Price | $149.95 | 15th September 2019 |
| Lowest Price | $125.00 | 27th February 2020 |
Since 15th September 2019
Last price changes
| | |
| --- | --- |
| $125.00 | 27th February 2020 |
| $149.95 | 15th December 2019 |
| $149.00 | 16th November 2019 |
| $145.00 | 11th October 2019 |
| $149.95 | 15th September 2019 |