OSTRICH PILLOW LIGHT is a clever little design inspired by an earlier napping creation OSTRICH PILLOW and powered by the millions of napping lovers. A light design, with lots of charm and plenty of use.
OSTRICH PILLOW LIGHT has been designed to allow you to catch some sleep whilst on the go, it is filled with special silent silicon coated micro-beads to enhance sound reduction whilst remaining light-weight. Its smart adjustable elastic ring allows power-nappers of different sizes to use it comfortably. The carefully sourced fabric is extremely soft, making you feel cosy enough to literally drift away anywhere.
The aim behind this quirky new napping device is to bring comfort, practicality, and portability in one product not to mention napping with huge style.
Your new napping companion comes in four funky designs, Sleepy Blue and Dreamtastic (Red), Polka Pink, Wavy Navy. So what color will you be dreaming in?
OSTRICH PILLOW LIGHT Reversible, the reversible version of OSTRICH PILLOW LIGHT, is currently available in 'Midnight Grey' an elegant duo of greys to dream in, finished off with a striking red adjustable cord.
1. What is OSTRICH PILLOW LIGHT?
OSTRICH PILLOW LIGHT is the new travel-friendly model of the revolutionary OSTRICH PILLOW, which hit global media headlines just a year ago.
Suggestions from thousands of supporters have encouraged the designers to come up with this new easy-to-carry model, designed specially for commuters, frequent flyers and holidaymakers.
OSTRICH PILLOW LIGHT will be hand made with love in Spain, using top quality materials for a comfortable yet cool napping experience.
2. Benefits of power naps?
Urban commuters spend an average of 1 hour per day on their way to and from work. To make things even worse, the time we dedicate to sleep is dramatically reducing in contemporary society (7 hours in Europe, 6 hours in USA and even less in Japan).
Did you know that a power nap of around 20 minutes increases productivity by more than 30%? Why not make the most out of our time in transit? That's why we came up with the idea of a device which helps you disconnect, dream for short periods of time and get to your destination with a smile on your face. This is when the dream of OSTRICH PILLOW LIGHT came to life.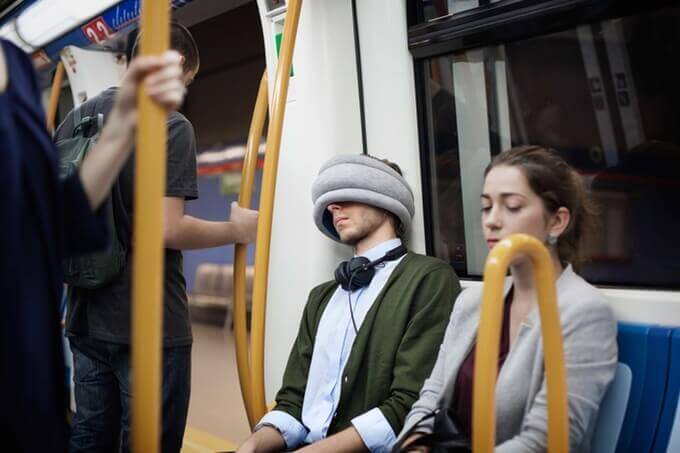 3. Seriously, can I use Pillow Light anywhere?
Have fun and rest anywhere! All you have to do so is choose a place to nap, slip on your OSTRICH PILLOW LIGHT and you're set to go. Many people have tried it in airports, trains, airplanes, buses, cars… and it's really 'naptastic'! Take it to work or on holidays and when you are busy dreaming big remember to send us your napping shots! We'd love to hear about your Ostrich naps!
4. How does it work?
It is simple, straight forward and just intuitive, you just need to slip it on your head and you're set to go! You are secluded to sleep, dream or just think and relax.
The elastic strap allows you to adjust the size of the OSTRICH PILLOW LIGHT to your head diameter. When you're not using it you can conveniently carry it around your neck (doubling as a scarf for those windy autumn days), tie it to your bag or simply flat inside your rucksack.
5. What is the fabric of Ostrich Pillow Light?
Technically 95% Viscose, 5% Elastomero, however this does not really sound luxurious, for us non technical people it is super soft, cosy and plush!
6. What is the maximum and minimum head dimensions for Ostrich Pillow Light?
Ostrich Pillow Light has a smart elastic ring which enables discrete size adjustments to be made. Anyone can use Ostrich Pillow light. A maximum perimeter of 75 cm is fine.
7. How do I breathe?
Ostrich Pillow Light is designed to cover your eyes, therefore breathing through you nose and mouth is straightforward.
8. How do I wash my Ostrich Pillow Light?
We recommend spot cleaning only.
OSTRICHPILLOW LIGHT Travel Pillow for Airplanes, Car, Office, Neck Support for Flying, Power Nap Neck Pillow, Travel Accessories for Women and Men - Color Midnight Grey, STUDIO BANANA
Price History
Statistics
| | | |
| --- | --- | --- |
| Current Price | $44.99 | 19th February 2020 |
| Highest Price | $44.99 | 17th October 2019 |
| Lowest Price | $44.99 | 17th October 2019 |
Since 17th October 2019