You can hide these super cool saber shaped Space Keys in you pocket and use them to open your doors too!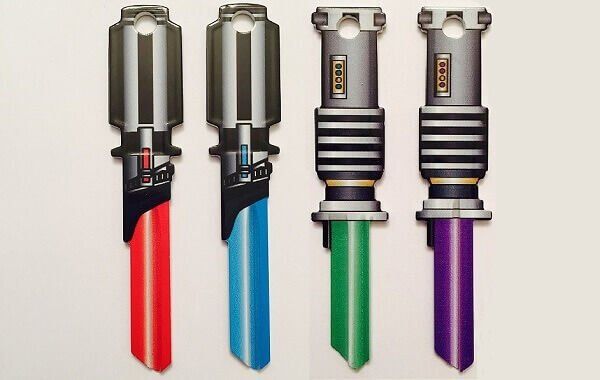 The Space Keys aren't keychains – they are key blanks that you can take to the locksmith to turn into a replacement for your other keys. Saber shaped keys can be duplicated with Kwikset KW1/KW10, Sclage SC1, Weiser WR5 and Yale/Universal U6D, depending on the type of lock you are using. It might be good to check out your local hardware store before buying to see if someone will be able to cut it for you.
Each of them is 80mm long, which is the standard length of a regular key, and the blades come in stunning red, blue, purple, and green hues.
You can make matching keys for your partner or family members. Makes a great gift for the Star Wars fans!
Set of 4 Saber Shaped Space Keys™ - Schlage SC1, TD RAND CO.
Price History