With a Selk'bag Marvel Sleeping Bag
, now you can suit up as your favourite Marvel superhero and get a good night's sleep with these wearable sleeping bags from Selk'bag.
You can think of Selk'bag Marvel Sleeping Bag
 as a one-piece pyjama for adults except with the insulation like those in a sleeping bag, so they'll keep you extra warm at night.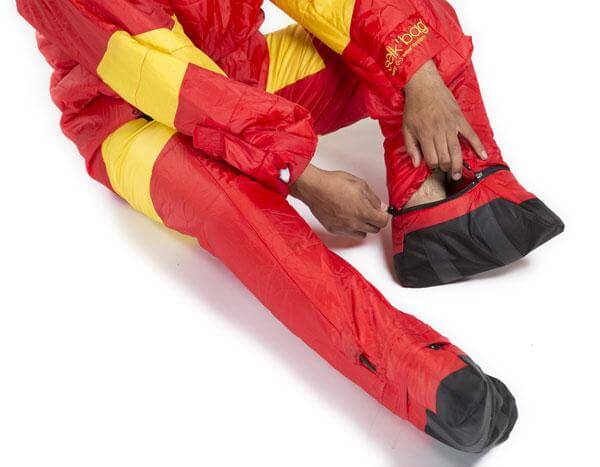 In a traditional sleeping bag you're left feeling completely mummified, and a trip to the outhouse requires you to first escape from your cozy prison. That's not a problem with the Selk'bag, though, because removable reinforced feet, easy access to your hands, and zippers running all over the place let you walk around and keep on doing exactly what you need to do without having to face the cold.
The award-winning Selk'bag designs come in four sizes to fit fans from 4-foot-6 to 6-foot-4, so both kids and adults can kip in comfort. Each sleeping bag has removable booties to keep cold feet warm, and thanks to Velcro pullbacks you can roll up the sleeves to keep your hands free to make smores or fight off evil wildlife.
These bags come with a 45 degrees temperature rating, meaning you'll still be comfy even if the temperature drops as low as 45 degrees Fahrenheit (7 degrees Celsius). Judging by the rating, these sleeping bags are best used for summer camping or indoor use, not on top of a snowy mountain.
The sleeping bag has a soft polyester shell and a durable water-resistant finish in case it rains or you spill your hot cocoa. An insulated hood and thermal neck collar prevent cold drafts from making you shiver. The sleeping bags also have a wide zipper to prevent snags.
And now they're available in four Marvel-themed versions letting you seed some truly memorable dreams as superheroes: Iron Man, Spiderman, Captain America, and even the Hulk. Remember that while the sleeping bags may be durable and come with a one-year warranty, they aren't bulletproof, so don't fight crime while wearing them.
Additional Selk'bag features include:
– Removable booties allow you to wear your own shoes or keep them on for warm sleeping
– Booties are reinforced with durable nylon outsoles to wear outdoors
– No-hassle hand openings allow you to bring your hands in and out of the bag quickly and effortlessly
– Velcro pullbacks allow you to roll up your sleeves for carefree use of your hand
– A soft polyester shell with DWR (durable water resistant) finish is both comfortable and water-resistant
– Dual front-entry zippers make for easy entry and exit
– The insulated hood adds warmth and comfort
– A convenient carry sack for compact portability
– A thermal collar around the neck prevents drafts down the back
– Draft tubes prevent heat loss around the zippers
– Wide zipper tape prevents snags when opening or closing
– A one-year warranty gives you peace of mind
You can also buy from Selk'bag at $149 each.
[fruitful_btn link="http://www.amazon.com/gp/search/ref=as_li_qf_sp_sr_tl?ie=UTF8&camp=1789&creative=9325&index=aps&keywords=Selk%27bag%20Marvel%20Sleeping%20Bag&linkCode=ur2&tag=hunts0e-20&linkId=4CW63QQKEXCKLAFN"]Buy on Amazon[/fruitful_btn]
Selk'bag Iron Man Sleeping Bag, Small, Red, Selk'bag USA
Price History
Statistics
| | | |
| --- | --- | --- |
| Current Price | - | 7th November 2018 |
| Highest Price | $97.62 | 12th July 2018 |
| Lowest Price | $97.62 | 12th July 2018 |
Since 12th July 2018
Selk'bag Spider Man Sleeping Bag, Small, Blue, Selk'bag USA
Price History
Selk'bag Captain America Sleeping Bag, Small, Blue, Selk'bag USA
Price History
Selk'bag Incredible Hulk Sleeping Bag, Medium, Green, Selk'bag USA
Price History