For a perfect makeup, a magnifying mirror and good lighting can make a real difference. The simplehuman Sensor Mirror is designed to light up automatically as your face approaches it. Its LED light ring that not only mimics natural sunlight, but also reflects light consistently and evenly, allowing you to see full color variation, so you'll know when your makeup is color-correct and flawless.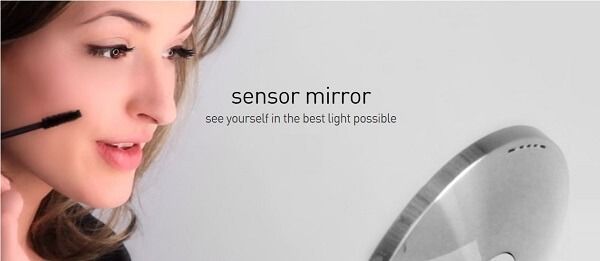 And unlike traditional makeup vanity mirrors' bulb lighting, the LEDs won't burn out or diminish even after many years. It is cordless, so there are no messy cords to clutter your desk. It is also rechargable (using the included USB cord and adapter) with one charge lasting up to 5 weeks.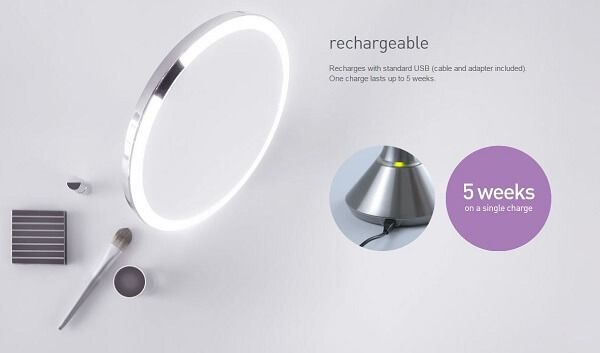 The distortion-free mirror is 5x magnification – ideal for providing exceptional detail while still allowing you to see your entire face at once.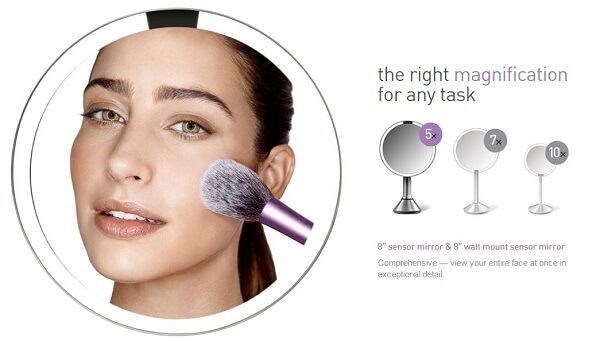 Features:
Distortion-free mirror: Precise curvature for distortion-free optics – even around the edges.
High reflectivity: Ultra-clear, high-quality glass backed by high-purity aluminum coating provides superior reflectivity and clarity.
Rechargeable: Recharges using a standard USB port (cable and adapter included). One charge lasts up to 5 weeks with moderate use.
Maximum adjustability: The mirror adjusts up and down and tilts back fully for a clear, comfortable view – even while standing up. To adjust, simply hold the base and pull up on the neck.
Tru-lux light system closely simulates natural sunlight – twice as bright and more color-correct than the next best
Sensor on/off – automatically lights up as your face approaches
5x magnification — ideal for providing exceptional detail while still allowing you to see your entire face at once.
Long-lasting surgical-grade LEDs
Maximum adjustability to always give you the best view
Cordless and rechargeable – one charge lasts up to 5 weeks
5 year manufacturer warranty valid only with purchased from authorized sellers including simplehuman or Amazon.com
Is it worth the hefty price tag?
At $200, the sensor mirror is expensive, but it can be a worthy investment that you use daily, or an amazing gift to your loved ones. You get a 5 year warranty which makes sense since you can't replace the bulb.
It's probably something you can live without, but once you actually had one, you'll likely realize how much you need it. It's one of the most well-built vanity mirrors in the market. I definitely recommend it if you're looking to ensure that your makeup is flawlessly done.
The simplehuman sensor mirror comes in 2 version: the free-standing countertop one, as well as a wall mounted version. But you can't have both functions in the same mirror. Also, it doesn't have multiple magnifications.
The sensor light goes out rather quickly and there is no stay on feature, so if you turn away from the mirror, there is a slight delay to get the lights back. The on / off button is on the bottom of the mirror, so you have to pick the whole mirror up if you want to turn it on or off manually.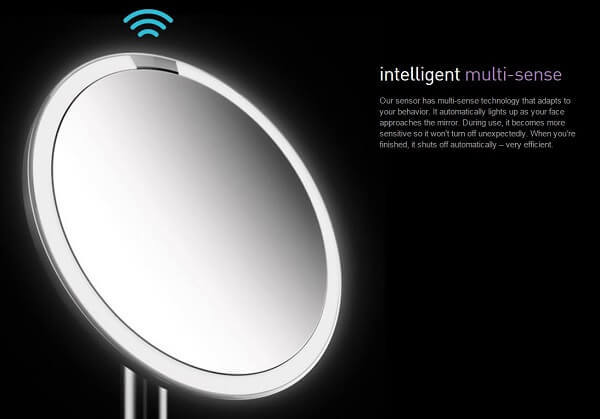 If you can live with these limitations, you will absolutely love this solid product! Check it out at Amazon.com, simplehuman or NORDSTROM.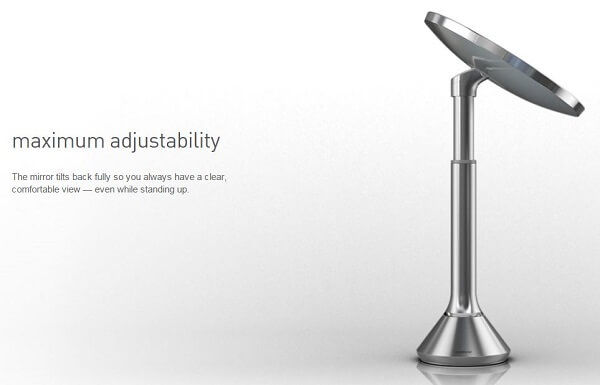 Otherwise, you can consider this LED Makeup Mirror (USD49.99) or Zadro's Max Bright Sunlight Vanity Mirror(USD79.99).