Skip Hop Zoo Pop-up Hamper is a foldable or collapsible storage organizer. It pops up in an instant to help organize your toddler's room; use it to collect clothes, toys and more!
I am using it as a laundry basket to hold my unwashed clothes. Measuring 12.5″ diameter and 16″ height, it is just sufficient to keep about 5 days of my clothes.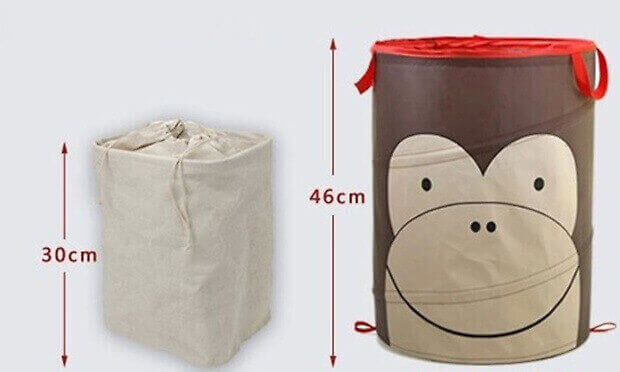 My favourite is the Bee, but it is not sold on Amazon; not even on Skip Hop – it can be purchased on Aliexpress instead. The Bee is so cute that it brightens up my morning when I wake up and when I return home.
The fine canvas fabric is comfortable and durable; the nylon rope braided handle makes it convenient to carry the hamper.
These Zoo friends encourage your little ones to clean up on their own, and the lightweight fabric makes it easy to tote from room to room. When not in use, the hamper collapses to fit in tight spaces, under the bed or in a closet.
Signature Zoo characters
Grab-and-go-handles Packs flat when not in use
Organize clothes, toys & more
Soft lightweight fabric
Fun textured details
Size (inches): 12.5 inch (~32cm) diameter x 16inches height (~41cm)
To avoid suffocation, keep bag away from babies and children. Do not use in cribs, playpens or carriages. This bag is not a toy.
Complete the set with coordinating Storage Bin, Towel & Mitt Set, Travel Blanket, and Neckrest!
Available on Amazon (Cylinder)(Square), Skip Hop (Cylinder)(Square), and Aliexpress (Cylinder) (Square).
Skip Hop Zoo Pop-Up Hamper, Otis Owl, Skip Hop
Price History
Statistics
| | | |
| --- | --- | --- |
| Current Price | $25.00 | 23rd March 2020 |
| Highest Price | $25.00 | 17th January 2020 |
| Lowest Price | $20.00 | 16th November 2019 |
Since 16th November 2019
Last price changes
| | |
| --- | --- |
| $25.00 | 17th January 2020 |
| $20.00 | 16th November 2019 |
Skip Hop Zoo Pop-Up Hamper, Marshall Monkey, Skip Hop
Price History
Statistics
| | | |
| --- | --- | --- |
| Current Price | - | 23rd March 2020 |
| Highest Price | $20.00 | 16th November 2019 |
| Lowest Price | $20.00 | 16th November 2019 |
Since 16th November 2019
Skip Hop Zoo Pop-Up Hamper, Blossom Butterfly, Skip Hop
Price History
Statistics
| | | |
| --- | --- | --- |
| Current Price | - | 23rd March 2020 |
| Highest Price | $20.00 | 16th November 2019 |
| Lowest Price | $20.00 | 16th November 2019 |
Since 16th November 2019
Skip Hop Zoo Pop-Up Hamper, Livie Ladybug, Skip Hop
Price History
Statistics
| | | |
| --- | --- | --- |
| Current Price | $19.99 | 23rd March 2020 |
| Highest Price | $19.99 | 25th November 2019 |
| Lowest Price | $14.99 | 19th November 2019 |
Since 19th November 2019
Last price changes
| | |
| --- | --- |
| $19.99 | 25th November 2019 |
| $14.99 | 19th November 2019 |