3DlightFX's Star Wars 3D Deco Lights are an amazing way to turn your room into a galaxy far, far away. They add light to any room and are perfect show-pieces.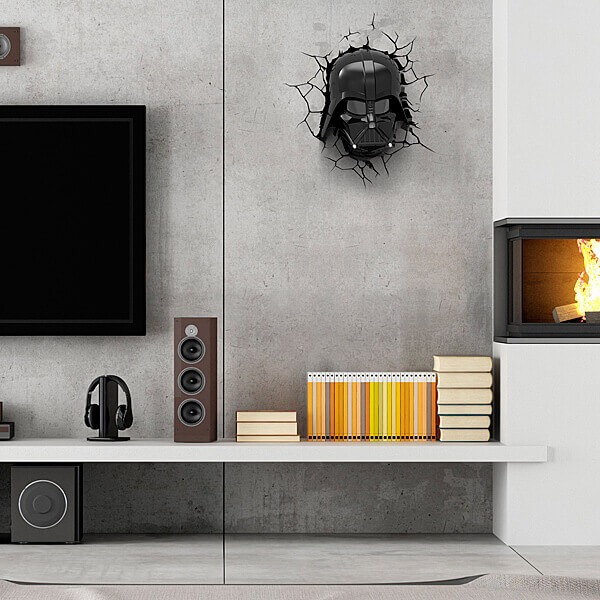 The lights are 3D model replicas of the Star Wars saga's most popular characters: BB-8, Boba Fett, Darth Vader Helmet, Darth Vader Lightsaber, Death Star, Kylo Ren, Millennium Falcon, R2-D2, C-3PO, Stormtrooper, Death Star, Yoda, and Yoda Lightsaber.
Each model has a different type of glow that suits the character or vehicle (for instance, Boba Fett glows a menacing red, while the Millennium Falcon's rear exhaust glows a space-age blue). The lights are battery powered and use LED bulbs; the glow is similar to a night light or mood light. Each Star Wars light includes a remote control for operation.
Each come with a unique 'crack' decal sticker surrounding its mount that makes it appears as though the characters are smashing their way through your wall.  These amazing Star Wars 3D Deco Lights never get hot to the touch because they're battery-powered LEDs and you never need to change out the LED lights as they are rated to last an astonishing 40,000 hours! These features and their overall, jaw-dropping appeal make them perfect for almost any room in the house.
Whether you wish to spruce up your infants room or enhance your office, 3DLightFX has something for everyone. Their line up includes Marvel, Nickelodeon, Hasbro, Disney and more. They also have Minions, Spongebob Squarepants, and My Little Pony products.
Currently, they are available at a discount at ThinkGeek (for U.S. and Canada) at Target.com,  and Amazon.
Watch more videos here.
3D Light FX Star Wars Darth Vader 3D Deco LED Wall Light, Japan VideoGames
Price History
Statistics
| | | |
| --- | --- | --- |
| Current Price | $31.97 | 6th November 2018 |
| Highest Price | $31.97 | 6th November 2018 |
| Lowest Price | $29.28 | 21st October 2018 |
Since 21st October 2018
Last price changes
| | |
| --- | --- |
| $31.97 | 6th November 2018 |
| $29.80 | 24th October 2018 |
| $29.28 | 21st October 2018 |
3D Light FX Marvel Captain America Shield 3D Deco LED Wall Light, Japan VideoGames
Price History
Statistics
| | | |
| --- | --- | --- |
| Current Price | $32.99 | 6th November 2018 |
| Highest Price | $55.00 | 21st October 2018 |
| Lowest Price | $32.99 | 6th November 2018 |
Since 21st October 2018
Last price changes
| | |
| --- | --- |
| $32.99 | 6th November 2018 |
| $55.00 | 21st October 2018 |
3D Light FX Marvel Iron Man Mask 3D Deco LED Wall Light, Japan VideoGames
Price History
Statistics
| | | |
| --- | --- | --- |
| Current Price | $32.65 | 6th November 2018 |
| Highest Price | $32.65 | 6th November 2018 |
| Lowest Price | $30.15 | 24th October 2018 |
Since 21st October 2018
Last price changes
| | |
| --- | --- |
| $32.65 | 6th November 2018 |
| $30.15 | 24th October 2018 |
| $30.45 | 21st October 2018 |