For when you need an out-of-this-world way to say, "I love you" or "I know" or "Utinni!!!," we offer this Star Wars Bouquet. Present your geeky girl with this lovely Star Wars bouquet this Valentine's Day. Unlike real flower bouquets that wilt and die in days or weeks, this cute and lovely bouquet can last for years, yet do not look bogus like some fake flowers.
It comes in 3 styles, all ships in a wrap with a bow, ready for gifting:
1. Assortment: Bouquet of 9 adorable Star Wars little figurines styled after the series's iconic characters like Vader and C-3PO. [Currently out-of-stock]
With Boba Fett, Darth Vader, C-3PO, R2-D2 + 2 Ewoks & 3 Stormtroopers, it features both good and bad guys, all of whom are cuter than usual (even R2!) because they're super-deformed. They come on long "stem" dowels, but you can easily pop them off for playtime, and then reattach them for display later.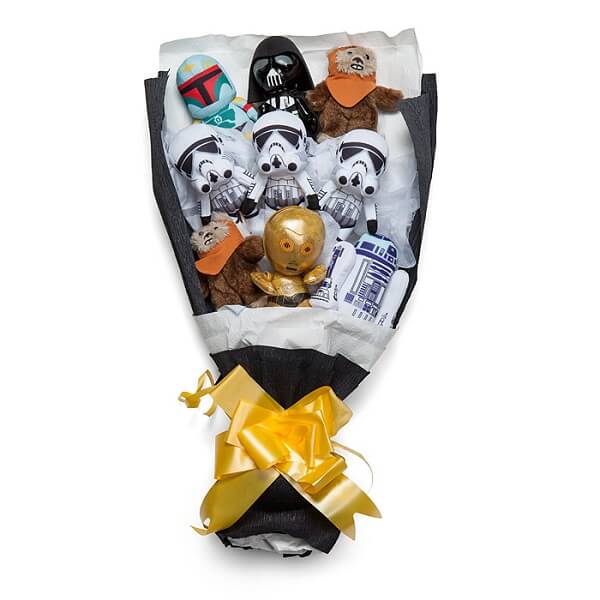 2. Darth Vader: Bouquet of Vader + 8 plush Stormtroopers
You won't have to worry about your bouquet recipient wheezing like your favorite Sith Lord with this Darth Vader Star Wars Bouquet. Here, Lord Vader stands tall, surrounded by 8 Stormtroopers. Each of these little super-deformed plush Imperials can be removed from its "stem" easily to be displayed on its own if you'd prefer.
3. Droids: Bouquet of 9 adorable astromech droids
Give your lovely girl the gift of astromech times nine with this Star Wars Bouquet. It features long-stemmed R2-D2, R2-Q5, and R2-D9 – 3 of each! You can pop the little plushes off their "stems" easily and put them back on at will. Give a little petal to the metal action to someone you love today.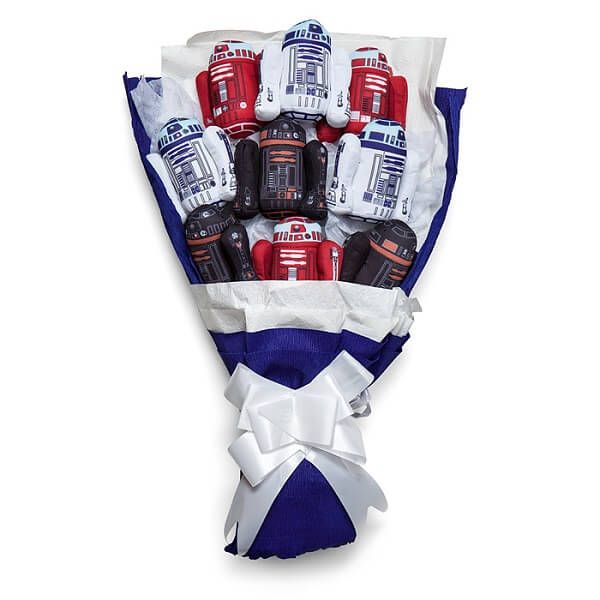 Product Specifications
Officially-licensed Star Wars merchandise
Each super-deformed plush attaches to a "stem" via 2 elastic loops on its back and can be removed
Materials: Polyester, polyurethane, and EVA
Dimensions: 4 1/2 – 6 1/2″ tall; bouquet c. 16″ wide x 24″ tall
Ships in its own marked box to prevent it being crushed by other items
Arrives in cellophane overwrap, crepe paper wrap, plus bow