Tooletries Mighty Toothbrush Holder is a silicone toiletry organizer that grips to shiny surfaces such as glasses, mirror, tiles and marble. No suction cups, no adhesive, and no permanent mounts needed, so you'll not have stains or adhesives left over.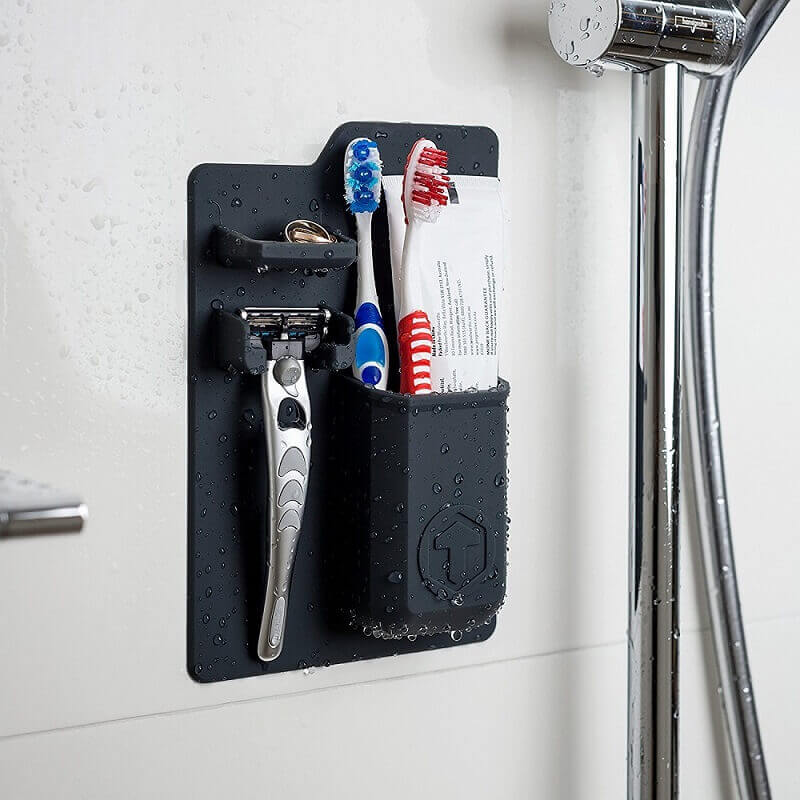 To use the Tooletries organizer, just push it onto any shiny surface. Removing it is just as easy, all you need to do is to just peel it off.
The Tooletries Mighty Toothbrush Holder holds up to 4 toothbrushes and toothpaste – it is also a razor holder, jewelry dish, and compact shower caddy.
It's waterproof, safe, hygienic and easy to clean. It also has a custom drainage system that lets water drain right through it so that water will never build up within the container. This will help prevent any mold and mildew from building up.
This cool bathroom organizer is a great gift for those with small showers – now the bathroom can now hold a lot more while keeping it all organized.
Check out the Tooletries stick-on silicone shower organizer in action via the video below.

They even offer a larger version that has two large pockets for holding shampoo, body wash or other large shower items. Along with an add-on mirror that can be placed right above each of the options.
Tooletries Mighty Toothbrush Holder, Charcoal, Tooletries
Price History
Statistics
| | | |
| --- | --- | --- |
| Current Price | $14.97 | 25th January 2020 |
| Highest Price | $17.99 | 11th October 2019 |
| Lowest Price | $9.63 | 20th December 2019 |
Since 20th August 2019
Last price changes
| | |
| --- | --- |
| $14.97 | 15th January 2020 |
| $9.63 | 20th December 2019 |
| $17.99 | 11th October 2019 |
| $17.97 | 26th August 2019 |
| $15.98 | 20th August 2019 |
Tooletries Dual Pocket Organizer, Grey, Tooletries
Price History
Statistics
| | | |
| --- | --- | --- |
| Current Price | - | 25th January 2020 |
| Highest Price | $41.79 | 11th October 2019 |
| Lowest Price | $41.79 | 11th October 2019 |
Since 11th October 2019
Tooletries Mighty Mirror, Charcoal, Tooletries
Price History
Statistics
| | | |
| --- | --- | --- |
| Current Price | $14.99 | 25th January 2020 |
| Highest Price | $14.99 | 6th December 2019 |
| Lowest Price | $14.69 | 15th January 2020 |
Since 6th December 2019
Last price changes
| | |
| --- | --- |
| $14.99 | 19th January 2020 |
| $14.69 | 15th January 2020 |
| $14.99 | 6th December 2019 |