How do you organize your undergarments when you travel? Do you have difficulty finding that last pair of clean underwear you packed? Have you ever felt embarrassed when you opened your luggage and your underwear fell out or got exposed? Are you worried that your underwear may fall on the ground while you are in a shower? If you ever faced all these issues, the Travel Undergarment Organizer or TUO could be a solution for you.
TUO (Travel Undergarment Organizer) by Origami Unicorn, is a practical and functional organizer, that allows travelers to organize their undergarments or small items neatly in a foldable bag which acts as a portable closet for your trip.
Built from water-resistant nylon fabric, the stylish organizer features three see-through mesh zipper pockets and six internal elastic pockets, and includes a drawstring mini laundry bag with divider.
The detachable handle strap design means you can hang it up for easy access to everything. The flat size is 13.5″ W x 28″ L and the folded size is 13.5″ W x 9.5 L.
The firm structure and the detachable handle design allow for sturdy storage and conveniently hangs in the bathroom or closet. It includes one mini laundry bag with a divider to store your dirty laundry.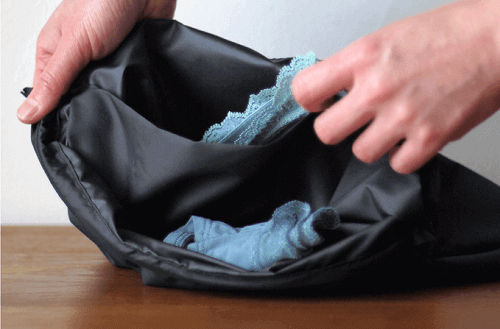 When you are ready to leave the hotel, simply fold the bag, snap the buttons and you are ready to go.
Pack & Organize: 3 separate compartments to pack and organize all your undergarment and small clothing items together.
Compact & Ease of Access: The most compact form to save space in your suitcase. The See through mesh zipper pockets, let you find what you're looking for at a glance.
Carry & Display: The firm structure and the detachable handle design make the organizer works just like a portable display.
Dirty Laundry Solution: Integrated 2 pockets laundry bag to separate socks and underwear.
Learn more from Origami Unicorn and Kickstarter, or grab one now from Amazon.
Origami Unicorn TUO -Travel Undergarment Organizer - New Packing Solution (Signature Black), Origami Unicorn
Price History
Statistics
| | | |
| --- | --- | --- |
| Current Price | $43.76 | 12th February 2020 |
| Highest Price | $43.76 | 15th November 2019 |
| Lowest Price | $43.76 | 15th November 2019 |
Since 15th November 2019