While there are many good options when it comes to microfiber towels, the Wazzala Premium Microfiber Towel is probably the only one that claims it can absorb 5 times (and even up to 7 times) its weight.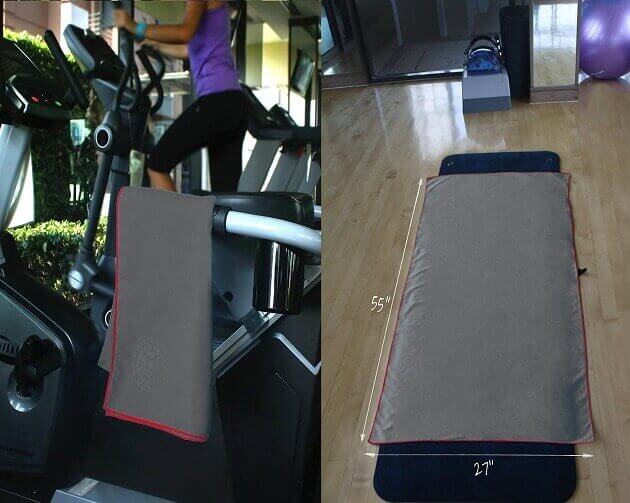 With a FREE complimentary hand/face microfiber towel (retail value of $12.95) and a FREE breathable mesh bag to carry and protect your towel while traveling, it offers value for money for a premium product, making them wonderful gifts for friends and family members who like practical gifts.
Some features
✔ PLEASANT, SUPER-SOFT TEXTURE – It is made with the finest microfiber strands in the world, weaved in a unique way. Thinner than SILK, these fibers went through an advanced softening process. The Wazzala Premium Microfiber Towel is thin and compact, but pleasantly soft.
✔ SUPER-ABSORBENT & FAST DRYING – Microfiber absorbs almost 5 times more water than cotton. The Wazzala towels can absorb up to 7 times its weight. That's why it works perfectly as hair towel and DRIES YOUR HAIR FASTER! Even more impressive is how fast you can dry the towel after use. Just hang it outside for a few minutes and you can quickly use it again.
✔FASHIONABLE & ANTIBACTERIAL – You'll love the trendy and classy design of the Wazzala Premium Microfiber Towel. And you'll also enjoy the ODOR-PROTECTION technology- the towels are specially treated to inhibit the growth of bacteria (that means NO BAD SMELL).
✔ YOU SAVE SO MUCH SPACE! – It's so compact when folded that it fits perfectly into any sports or travel bag leaving more space for other equipment.
✔ ECO-FRIENDLY – Reduce water usage.
✔ STRONG & DURABLE- Put it to test in sports & outdoors activities.
✔ Hang It Anywhere Easily – The reliable hanging hook allows you to hang it safely anywhere. It will never fall on the dirty floor. Always clean, always safe.
✔ Easy to Clean – Even a short wash cycle or a hand wash will remove all dirt from the towel, leaving it fresh & clean.
★100% MONEY-BACK GUARANTEE ★ You can always take advantage of the ironclad satisfaction guarantee. If for any reason you don't absolutely love our towels, you will receive a full refund and/or replacement. NO QUESTIONS ASKED!
Premium Microfiber Towel for Travel, Sports and Outdoors. Includes Bonus Small Hand/Face Towel and Mesh BAG. Antibacterial, Quick-dry, Compact. With Hook. XL Large, Wazzala
Price History
Statistics
| | | |
| --- | --- | --- |
| Current Price | $17.95 | 25th May 2020 |
| Highest Price | $29.95 | 16th November 2019 |
| Lowest Price | $16.95 | 11th October 2019 |
Since 11th October 2019
Last price changes
| | |
| --- | --- |
| $17.95 | 12th February 2020 |
| $29.95 | 16th November 2019 |
| $16.95 | 11th October 2019 |