Valentine's Day is a great time for couples to celebrate their love. It is a good chance to shower each other with a special and interesting gift to show forth your love. Are you scratching your head thinking of what to buy? Here are the top 10 Valentine's Day gifts (for him) recommended by Hunt Simply for that special someone in your heart this Valentine's Day:
1. World Scratch Map
If your partner likes to travel, this would be a good gift for him. This World scratch map allows travellers to mark their countries visited. It is covered in a gold foil which can be scratched off with a coin. Each country has a different colour. The map comes in a cool storage tube for optimum presentation as a gift.
Get it at Amazon.
2. J Pillow, Travel Pillow – Winner of British Invention
This is another great gift idea for those who need to travel a lot. This travel pillow prevents the head from falling forward with its patented chin supported design. It gives support to the head and neck, keeping it in a perfect position, making you feel that you are lying down while you are sitting up in an airplane, train or coach. It helps greatly for your special someone to get uninterrupted sleep when they are on the go for a long trip!
Get it at Amazon.
3. Fitbit Flex Wireless Activity + Sleep Wristband, Black

To help your special someone to improve in their overall health and well-being, you can consider buying an Activity Tracker so that he can monitor his activity, fitness levels, sleep, and calorie burned and adjust his behaviours accordingly.
Get it at Amazon.
4. FlipBelt – World's Best Running Belt & Fitness Workout Belt
This would make a practical gift for men who like to go for a jog or cycle or other forms of exercises. With this Flipbelt, they would not need to worry about carrying important things like keys, cash and mobile phone in their pockets and risk having them fall out during the workout. This Flipbelt has multi-access pocket openings throughout the belt for him to put different items. There is no buckle to cause uncomfortable chafing!
Get it at Amazon.
5. The AVENGERS Ironman Mask USB Flash Drive 8GB (in original Avengers Package by Infothink)
Is your special someone a fan of Ironman or the Avengers Superheros? This would make a great gift for him. It is also a practical gift with a nice packaging as well.
Get it at Amazon.
6. Big Hero 6 Baymax USB Flash Drive 8GB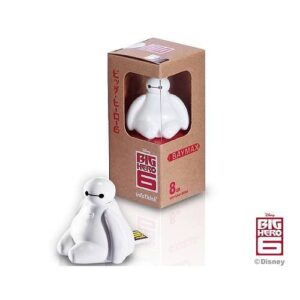 For the Baymax lovers, this FlashDrive would definitely bring a smile to them. You can even remind him of you as his "Baymax", his Personal Health Care Assistant who would be there for him. It would even light up when it is plugged into the USB port.
7. Personalised His Fav Things T Shirt
You can get a personalised T Shirt that tells him how much you know about Him by listing down his choice of three favourite things, it could be football, beer, curry, fishing, cricket, chocolate, my kids, to name a few! You can even request to print three things you love about him, for example patient, kind, loving.
Get it at notonthehighstreet.com.
8. Personalised 'Head Over Heels' Socks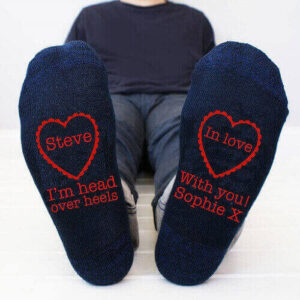 Most guys wear socks so why not buy a special one just for him and personalise it with a heart warming message like "Steve, I'm head over heals' on one foot and on the other 'In love with you! Sophie'. You can also request to print other personalised message. I am sure this would make him smile sweetly from the inside (and make him think of you) whenever he wears it.
Get it at notonthehighstreet.com.
9. Personalised '10 Things I Love About…' Box

One GREAT way of expressing your love for your boyfriend or your husband can be a beautiful, personalised keepsake box filled with your own reasons for loving that special him or her. If you have the time, you can make a list of 10 things you love about him/her, personally print them on strips of paper, then roll them up into personalised scrolls of love in a beautiful box. To make the box more attractive, you can mount a personalised wooden heart on top.
If time is a constraint, you can also engage professional help at notonthehighstreet.com.
10. Initial Cufflinks
Choose these personalised yet stylish initial cufflinks with letters that represent both your names! It will gently remind him that you are a couple!
Get it at Amazon or notonthehighstreet.com.
Happy Shopping for Valentine's Day! Last but not least,  you may be interested in this article on finding the "perfect gift" for your Valentine!