[Updated on 20 Nov 2015] Good keyboards have the ability to turn frustrating work on smartphones like typing long email messages and taking notes at conference sessions into a productive one by removing the need to use the tiny on-screen keys. Top mobile keyboards work like a physical keyboards that are also portable. 
There is no shortage of mobile keyboards in the market, so how do you make the choice? Some of these keyboards are stand-alone, while others double as a protection cover or carry case. Many of them are as big as a tablet, but there are also keyboards that roll up like a window shade, and gadgets that project a virtual keyboard from a tiny box onto any flat surface.
The keyboards that we are featuring here fit these criteria:
they handle touch typing,
they are lightweight,
they are compact and portable,
they can connect to devices wirelessly, e.g. over Bluetooth,
they work with any Windows, Android, or iOS device, and
they provide at least 2 months of typical usage on a single charge and are rechargeable.
Here are our recommendations of mobile keyboards intended for use with smartphones (in no particular order):
Size: 10.9 x 4.9 x 0.6 inches
Weight: 14.92 ounces
Compatible with: PC (Windows® 7, Windows 8, Windows 10 or later), Mac (Mac OS 10.10 or later), Chrome OS™, Android™ tablet or smartphone (Android 3.2 or later), iPad or iPhone (iOS 5 or later), Apple TV 2nd or 3rd generation
Needs: Bluetooth HID (Human Interface Device) keyboard support
2-Year Limited Hardware Warranty
Wireless Range: 10 m (30 ft)
2 x AAA battery with 2 years (24 months) of usage on a single charge
Released in Sep 2015, the compact and lightweight Bluetooth Logitech keyboard connects up to three devices simultaneously, for example a Windows computer, an iPhone and an Android tablet. Simply touch a button to start typing on a different device.
The K380 Multi-Device Bluetooth Keyboard is available on Amazon.
More details on HuntSimply.
Size: 9.5 x 4.3 x 0.5 inches
Weight: 12.8 ounces
Compatible with: Microsoft Windows®8+ and Windows RT, iOS 6+, Mac OS 10.7+, Android 4+ (* Does not work on Windows Phone)
Needs: Bluetooth HID (Human Interface Device) keyboard support
Operating system switch allows you to easily switch between devices
Integrated smartphone and tablet stand
Detachable cover for comfortable positioning of your device
Protective cover activates easy-on/ easy-off feature
Rechargeable battery with 6 months of usage on a single charge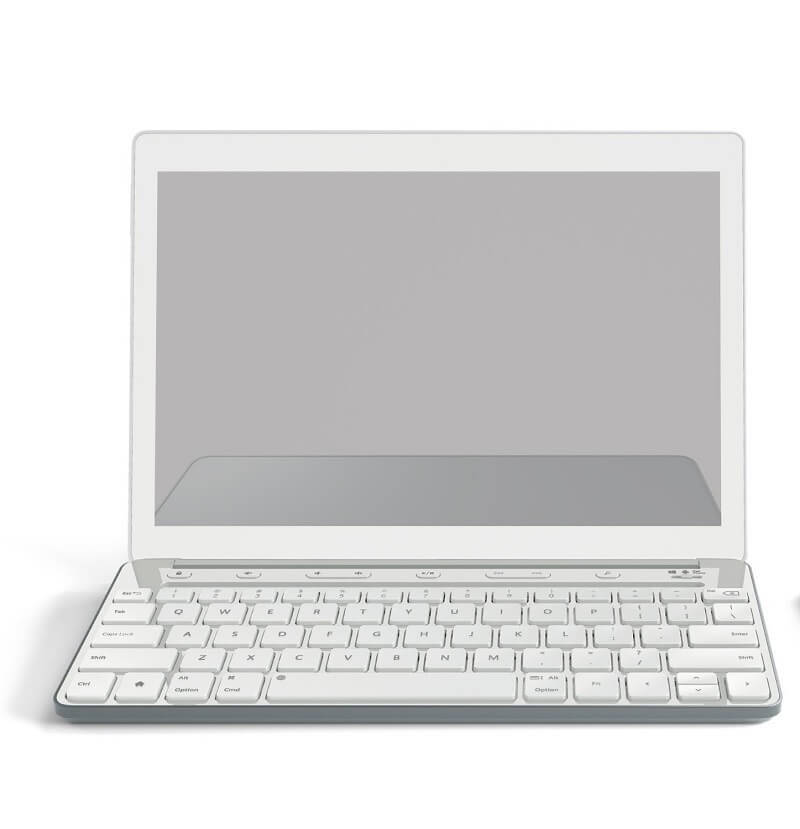 The Microsoft Universal Mobile Keyboard is available on Amazon.
Check out more details on Microsoft website.
Size: 11.6 x 4.9 x 0.5 inches (open); 5.8 x 4.9 x 0.5 inches (closed)
Weight: 10.4 ounces
Compatible with: Windows 8, 8.1, Windows Phone 8.1 Update 2, Apple iOS 7-8.1, Android 4.3-5.0
Needs: Bluetooth® 4.0, and Bluetooth HID (Human Interface Device) keyboard support
Works across devices: The Universal Foldable Keyboard was designed to work with iPad, iPhone, Android, Windows tablets, and Windows Phone.
Ultra-thin and lightweight: Only 5mm thin, the innovative, foldable design easily fits into a purse, bag, or pocket.
Bluetooth Smart: Clutter-free and reliable experience utilizing the latest in Bluetooth 4.0 technology, consuming less power.
Easy on/Easy off: Open the keyboard to connect to your tablet or smartphone. Simply close the keyboard to shut it down.
Full-size keyset: The full-size keyset provides fast, accurate typing.
Spill-resistant design: Water repellent keyset and fabric helps protect against accidents.
Rechargeable battery: The built-in rechargeable battery provides up to three months of usage on a single charge.
The Microsoft Universal Foldable Keyboard is available on Amazon.
Don't miss the review on HuntSimply.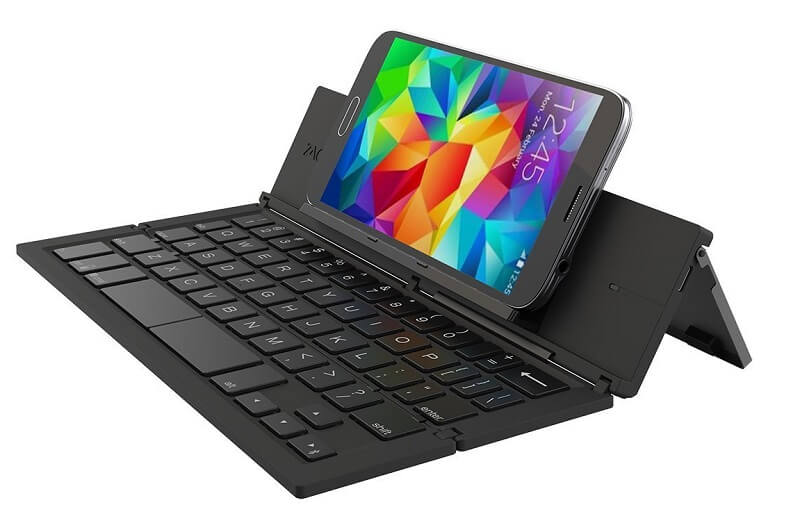 The ZAGG Pocket delivers over 85 percent the size of a desktop keyboard, the Pocket Keyboard maintains fast, natural typing, and then folds into a compact, protective travel size case that easily fits into pockets and purses. And, unlike other folding keyboards, the Pocket Keyboard folds between lines of keys to preserve comfortable key spacing so you can get more done, naturally.
Unlike other folding keyboards that space keys awkwardly, the Pocket Keyboard folds between rows of keys to maintain the spacing you're used to. Plus, the Pocket Keyboard maintains over 85 percent the typing space of a traditional keyboard so you can enjoy the same natural typing experience you expect from ZAGG's mobile and tablet keyboards.
Size: 8.75 x 6.87 x 0.3 in. (open); 8.75 x 2.12 x 0.5 in. (closed)
Weight: 6.9 oz.
Compatible with: Android, iOS
Natural: Maintaining over 85 percent the typing space of a desktop keyboard, the Pocket Universal delivers the same fast, natural typing experience you expect from ZAGG keyboards.
Compact: A unique design allows the Pocket Universal to fold into a simple 9in X 2.5in X .5in rectangle that slides into pockets and purses with ease.
Smart: Strong magnets keep the Pocket Universal folded and help maintain battery life by automatically turning it off when closed.
Convenient: A built-in stand secures phablets and smartphones at an ideal viewing angle for simple use anywhere.
Universal: The Pocket Universal is compatible for use with all Apple devices.
Lasting: Its powerful lithium polymer battery lasts up to two years of regular use between charges.
The Zagg Pocket Keyboard is available on Zagg and Amazon.
Size: 9.91 x 3.53 x 0.26 in. (open); 5.87 x 3.87 x 1.0 in. (closed)
Weight: 6.5 oz.
Ultra-portable wireless keyboard for all iOS devices including iPad, iPhone, Apple TV and more OR Android and Windows devices: Ultra-slim, light, go-anywhere Bluetooth keyboard fits easily in a coat pocket, purse or briefcase
Durable and spill-resistant: Wipe able Fabric Skin protects the keyboard from spills, dirt and drops
Comfortable typing: Well-spaced, full-size keys with iOS OR Android/Windows shortcuts for fast, familiar, accurate typing on iPad/tablets
Long-life rechargeable battery: Type for up to 3 months between charges (Based on 2 hours average usage per day)
Simple setup: Pairs quickly and easily with iPad via Bluetooth connection
For Android/Windows- Portable smartphone stand: Attaches to keyboard and holds your smartphone upright for easy typing
The Logitech Keys-To-Go is available on Logitech: iPad and Android/Windows, as well as on Amazon: iPad, Android and Windows.
6. Perixx Periboard-805L & 805LW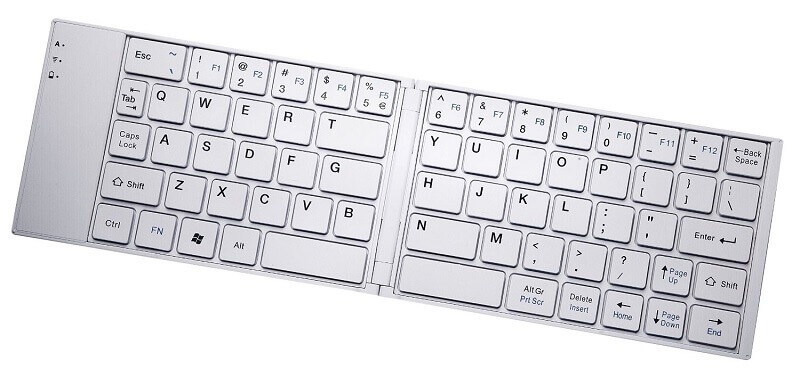 Size: 12.5 x 3.75 x 0.31 in. (open); 6.3 x 3.78 x 0.67 in. (closed)
Weight: 8.9 oz.
Compatible with: Android, iOS, Windows operating system
Bluetooth 3.0 Technology with up to 30ft/10m Interruption-free Receiving Distance
Support HID (Human Interface Device) and up to Android 4.4 Operating System
6.30″x3.78″x0.67″ (160x96x17mm) Pocket Size
Support iOS with quick shortcut keys
Large Desktop Silent High Quality X Type Scissor Keys – Non-slip Rubber Feet
On/Off Switch with Li-ion Rechargeable Battery
The Perixx Periboard is available on Amazon in 2 colours: Black; White.
Size: 9.9 x 3.5 x 0.6 inches (open); 5.7 x 3.5 x 0.6 inches (closed)
Weight: 4.4 oz.
Tri-fold design makes it a perfect portable keyboard.
Using the American broadcom bluetooth 3.0 chip, 8 times faster than the Bluetooth
2.0, high speed connection and signal distance up to 33ft (10m).
Ultra slim design, easily stows in a backpack, messenger bag, or case. Ergonomic tilted design reduces wrist strain.
QWERTY layout with hot keys, compatible with iOS /Mac OS, Android, Windows, and all bluetooth-enabled tablets, laptops, and computers.
Built-in 210mAh lithium battery, works for up to 114 days i n standby mode without charging, with 64 hours continuous use.
The 1byone Pocket Size Mini Keyboard is available on Amazon.
Size: 10 x 3 x 0.3 inches (open); 5.1 x 3 x 0.5 inches (closed)
Weight: 10.6 oz.
Light and ultra-portable: when folded 5.1 x 3 x 0.5in; when open 10 x 3 x 0.3in–about the size of a chocolate bar. (And lightweight, too, at 10.6oz). You can easily put it in your bag, purse, or even in your pocket! Made with Aluminum alloy, it's both elegant and strong.
Built-in battery with a stand-by time of more than 30 days thanks to its American Broadcom chipset with low power consumption.
The Ukonnect Bluetooth Foldable Keyboard has a 6-meter (33 foot) wireless range. Also, built-in Bluetooth 3.0 and "Generic Alternate MAC/PHY (AMP)" can increase transmission speed using a variety of high-speed wireless technologies. No need to have a wireless receiver. Perfectly supported by the Apple iOS, Android and Microsoft operating systems.
Full-sized keyboard with standard keyboard dimensions: the small or narrow-gap keyboards usually found on the market are uncomfortable to use. The Ukonnect Bluetooth Foldable keyboard provides superior comfortable operations.
Simple operation with lots of hot keys. For example: Fn+d (camera): Go beyond a selfie and control your phone remotely from a distance to take a photo; Home: display the iPad home screen; Play/pause: starts or stops current playlist. Easy Pairing: uses a new, alternative RF technique that allows Bluetooth to be dynamically selected.
The Ukonnect Ultra-compact Foldable Bluetooth Full-size Standard Keyboard is available on Amazon.
Size: 11.5 x 3.3 x 0.2 inches (open); 5.75 x 3.3 x 0.2 inches (closed)
Weight: 10.4 oz.
Use Broadcom 3.0 chip, perfect performance and stable quality 2. Build-in 110mA Li-battery, sustainable for continuous 40 hours using
Protective Case Doubles as a Stand,Compatible with Android & iOS Devices
Docks Tablet Devices or Smartphones While in Use
Micro USB charging cable, 4 hours full charging,Auto sleep if no use within 15 minutes
30 Days Standby Time,44-Hr Run Time<,Convenient to CarryHigh quality silk printing on the keys, no faking for more than 5 million taps 8. The universal bracket within package can use as keyboard protector when fold up the keyboard; and use as bracket for tablet and smartphones when using the keyboard
The Gright Wireless Bluetooth 3.0 Universal Pocket Folding Keyboard is available on Amazon.
Conclusions
The quest to find the best mobile keyboard ends up in a subject experience as much of the usability depends on how the size of our fingers, whether we are a touch typist (by the way, the Zagg offers the least compromised key layouts) and whether we need a flat surface to rest the keyboard on etc.
Still, hope that this list will give you a start. Please leave your comments or other suggestions not recommended here!