If travelling light is getting harder, considering how much gadgetry you need to pack nowadays: mobile charger, travel router and so on, the all-in-one HooToo TripMate Elite Wireless Travel Router should help you pack a little lighter.
Multi-functional
The HooToo TripMate Elite Wireless Travel Router is actually three devices in one: a multi-functional travel router that simultaneously serves as a portable battery, USB wall charger, travel WiFi router, and a network-attached storage (or NAS). It packs all of these into something the size of a glossy black MacBook charger.
TRAVEL ROUTER: You can instantly convert a wired network to wireless, and also bridge an existing wireless network, create your own secure Wi-Fi network. When you travel with family or doing project with colleagues in one hotel room, you will need this badly.
POWER BANK: With a 6000 mAh built-in battery, the TripMate enables you to charge most smartphones two times.
DUAL USB WALL CHARGER: The two USB ports enable you to charge two of your mobile devices simultaneously, so both your main devices can also be powered up. Plugging the TripMate Elite directly to the wall outlet can easily recharge it. You may free up space on your mobile devices by backing up your photos and videos from your iPhone, Android phones, iPad or other mobile devices to attached USB flash drives, hard disks.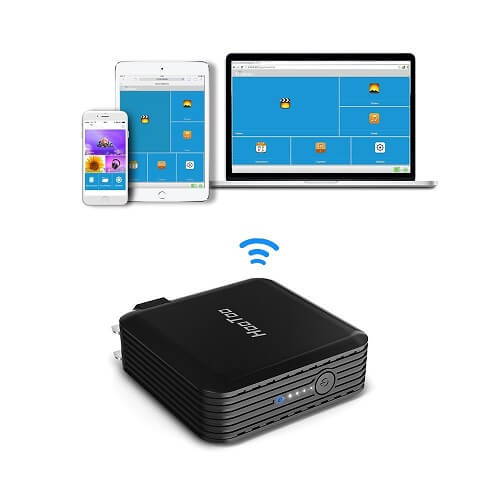 Endless Media streaming
Stuck with a network cable in hotel? Turn it into a wireless local network for your smartphone and tablet. You can also share contents and wired/wireless Internet connections when on the road. This means you can seamlessly stream your videos, photos, and music to your connected smartphones, tablets, TVs, media players, Chromecast, Roku, and other DLNA devices.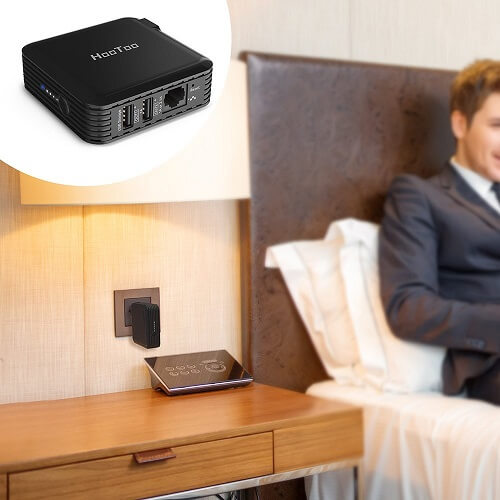 Convenient Home Charging
The TripMate is neatly packed a foldable charging pin so it can charge itself with any power outlet. With the build-in adapter plug, you dont need to carry adapters.
Upgrade Core
Faster and better with new chipset MTK7620, enables you to plug one USB hub attaching up to 4 USB hard drives or flash drives. And perfectly match the upgraded TripMate Plus mobile app.
TripMate Plus Software
Free to download for iOS and Android, the TripMate Plus is a powerful App that let you convenient control all sharing and setting from your mobile devices. It is very easy to use or troubleshoot, compared to the previous versions.
Get it from Amazon.com at a discount.
HooToo TripMate Elite Travel Wireless Router, 6000 mAh External Battery Pack, Dual USB Port, AC Charger, Wi-Fi Media Sharing for Flash Drive & Hard Disk Storage, Mini Travel Router, HooToo
Price History