The ICE Orb Levitating Speaker is a beautiful Bluetooth & NFC Speaker with a gravity-defying Orb and a Base capable of doubling as a charging dock for your devices!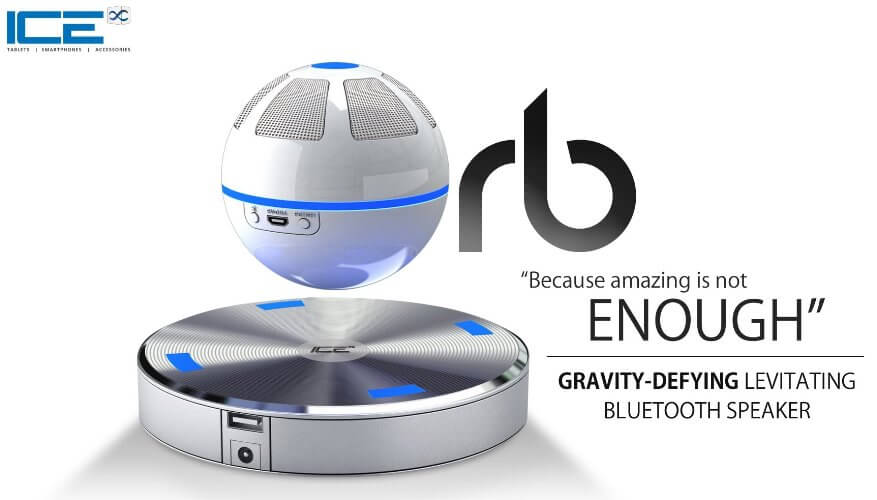 Jaw dropping Sound
The ICE Orb comes with a high quality speaker system which lets you play songs at high volume without even the minutest of distortion. We have made sure that the orb spinning neither compromises on sound quality nor on clarity but simply leaves you with a jaw-dropping music experience.
360° Sound
The base of the ICE Orb is a sleek 25mm thick circular base which levitates your Orb beautifully in the air. The Orb has a circular speaker system spinning in 360°, making sure everyone in the room gets the best uncompromising music quality ever.
Dynamic Stabilization Mechanism
The ICE Orb comes with a revolutionary next generation Dynamic Stabilization mechanism which indicates the stability of the floating orb using the four blue indicators.
Portability
Either make the world go 'aww' with the Orb spinning in mid-air over its base or simply carry it along wherever you go as a standalone portable Bluetooth speaker without the base!

Bluetooth & NFC
Has multiple connectivity options like Bluetooth & NFC to makes sure none of your smart devices are left out when it comes to pairing with the ICE Orb
Charging Dock
The base comes with an in-built USB port which has been seamlessly integrated to let you charge your Tablets and Smartphones when the base is connected to a direct power source. This makes your ICE Orb an all-in-one Music hub which not only lets you listen to music, but also charge your smart devices simultaneously.
Key Features
Floating Speaker Orb spinning above a magnetic base
Special sound guide cone designed to increase 3D surround effect
Floating bluetooth speaker with 10mm above base / ground clearance
Use LED indicators in base for stabilizing Orb
Orb can be used individually as portable speaker without base as well
Base can be used as Powerbank
10 hr of music playback
Compatible with bluetooth devices: Connects with iPhone, iPad, iPod, Kindle or Android devices
Built-in NFC function -any smartphone or tablet with NFC function can pair automatically
ICE Orb Levitating/Floating Wireless Portable Bluetooth Speaker, Drive India Enterprise Solutions LTD DBA ICE X ELECTRONICS
Price History
Statistics
| | | |
| --- | --- | --- |
| Current Price | $109.99 | 25th June 2020 |
| Highest Price | $299.99 | 20th September 2019 |
| Lowest Price | $109.99 | 22nd February 2020 |
Since 17th September 2019
Last price changes
| | |
| --- | --- |
| $109.99 | 22nd February 2020 |
| $179.98 | 14th February 2020 |
| $269.99 | 20th January 2020 |
| $149.99 | 19th December 2019 |
| $129.99 | 25th November 2019 |