The award-winning Luci inflatable solar lantern is a waterproof, solar-powered light from MPOWERD. Brilliantly designed and affordably priced, there's a Luci light for every market and every
use – from camping, fishing, boating and emergency to travel, auto, special events, home décor and celebrations. Powered by the sun's free energy, Luci lights are safer, cleaner and brighter than candles and kerosene and longer lasting than batteries.
Luci has three main components that make her work: (1) a solar panel that captures photons from sunlight or incandescent light; (2) a rechargeable internal battery that stores her power; and (3) 10 LED bulbs that produce her light.
It has an elegant design – a flat, inflatable, light-weight, maintenance-free and waterproof little dome of light. It comes in different models:
1. Luci® Original – Dependable Portable Solar Lantern (US$14.95)
Luci weighs only 4 ounces and collapses to one inch thin. Whether it's for travel, disaster relief or anything in between, Luci always shines bright.
Check out a video of Luci EMRG here.
2. Luci® Outdoor – Inflatable Solar Lantern (US$14.95)
Luci Outdoor is the perfect companion for camping, boating, hiking and more. It's lightweight, waterproof, durable and can withstand any weather. Luci Outdoor is the same great light as Luci Original, but packaged for the outdoor enthusiast (with a more transparent top). Including an emergency flashing setting, Luci Outdoor a safe and reliable source of light for your next adventure!
3. Luci® EMRG – Anytime. Anywhere. Any Weather (US$11.58)
Lightweight, waterproof and shatterproof, Luci EMRG provides ultra-bright, reliable light to guide your way indoors and out, through blackouts or extreme conditions – anytime, anywhere and in any weather. Weighing only 2.5 ounces and featuring a red S.O.S. emergency flasher, the ultra-compact Luci EMRG has you prepared for any adventure, even the unscheduled kind!
Check out a video of Luci EMRG here.
Buy on Amazon
4. Luci® Aura – Mood-Setting Solar Lantern (US$22.16)
Luci Aura by MPOWERD is the perfect addition to any home or celebration! With 7 colored light settings (plus bright white for reading), it can cycle through multiple hues or settle on a single color to create just the right mood. Luci Aura is an inflatable LED solar lantern with a dazzling frosted body, making it a glamorous, safe, sustainable and fun alternative to candles or batteries.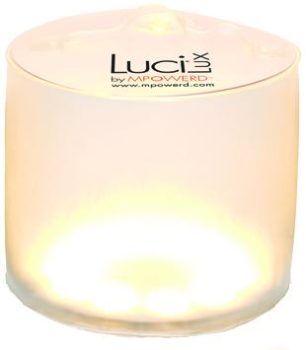 5. Luci® Lux – A New Kind Of Brilliance (US$19.95)
Luci Lux by MPOWERD brightens up your home or patio with an ambience of luxury and high style. An inflatable solar lantern, Luci Lux has a sleek, frosted design and creates a brilliant but warm glow. Perfect for everyday use or celebrations, Luci Lux can give your dinner party, outdoor soiree, or favorite reading chair just the right touch.
Luci is an amazing sun-powered light as well as a source of inspiration in spreading the important message about the positive steps we can all take towards a cleaner, greener world. – Rachel McCarthy, Ride the Future Tour
Switch to affordable and environmentally-friendly solar lamps that produce light with zero emissions. This Luci inflatable solar lantern is a one-of-a-kind inflatable solar lamp that provides up to 12 hours of lighting over a range of 150 square feet. Plus, you will be contributing not only to the environment but to a good cause. For each solar light purchased, a home will be illuminated, lives will be changed and 320kg of CO emissions will be kept out of the atmosphere annually.
Learn more including brightness, lifespan, warranty etc at: www.mpowerd.com
About Luci
How does Luci work?
Luci has three main components that make her work: (1) a solar panel that captures photons from sunlight or incandescent light; (2) a rechargeable internal battery that stores her power; and (3) 10 LED bulbs that produce her light.
Does Luci need any additional parts, such as batteries or a charger?
No – unlike some other solar lights, Luci does not require any additional parts, since her unit contains solar PV cells, a battery, and LED lights all in one.
How does Luci charge?
Luci's solar panels charge when facing sunlight or incandescent light. In direct sunlight, Luci will fully charge in 8 hours. She will charge even when it's cloudy outside, but it will take longer. To charge Luci in incandescent light, place the solar panel close to the light bulb – but not so close that it becomes hot. It will take longer than 8 hours to charge under incandescent light.
How long does Luci stay illuminated after one full charge?
When Luci is set on Bright (lowest light setting) she provides light for up to 12 hours after a full charge.
How long does Luci last?
Luci has 300-500 cycles of full charge, so the length of time she lasts depends on frequency of use. If you fully charge and fully discharge every single day, Luci lasts approximately 2 years. If used less frequently, she will last for many years.
How much light does Luci produce?
Luci illuminates an area of about 10 square feet (1 square meter).
If Luci is kept in an emergency supply kit, how often should she be recharged?
When not in use, Luci holds a full charge for about three months. After that, she retains up to 50% of her charge for two years.
What is the life span of Luci's LED lights?
The industry standard for LED light bulbs is at least 25,000 hours. The LEDs will not burn out during the life of a Luci lantern.
Can Luci be kept outside?
Yes – despite her elegant appearance, Luci can withstand extreme temperatures, wind, and rain.
Can Luci be used in water?
Yes – Luci is waterproof and so can safely be used in the rain, on boats, or even in salt water or a chlorinated pool. And since she's inflatable, Luci floats! PVC is one of the most commonly specified and used plastic materials on the planet. PVC is generally very corrosion-resistant, withstanding chemical attack from most acids, many alkalis, salt water, chlorinated water, turpentine, and crude oil.
Is there any risk of electric shock or burns from Luci?
No – there is no risk of electric shock or burns with the Luci lantern.
I am having trouble inflating Luci. What can I do?
Luci has been developed with a special valve to prevent air leaking out through the inflation valve. In order to inflate Luci, this valve must be pinched to let air through. The valve can be pinched with your fingers or your teeth while blowing into the unit. To deflate Luci, pinch the valve again while compressing Luci to let air escape.
MPOWERD Luci Original - Inflatable Solar Light, mpowerd
Price History
Statistics
| | | |
| --- | --- | --- |
| Current Price | $21.99 | 30th November 2018 |
| Highest Price | $21.99 | 30th November 2018 |
| Lowest Price | $17.93 | 15th October 2018 |
Since 15th October 2018
Last price changes
| | |
| --- | --- |
| $21.99 | 30th November 2018 |
| $19.95 | 14th November 2018 |
| $17.93 | 15th October 2018 |