Makey Makey Invention Kit turns everyday objects into touch pads and combine them with the internet.
***There is a newer and more portable version: "Makey Makey GO".  It's in KickStarter (as of July 2015). Only from $19 onwards.
But if you can't wait, read on to find out more about the original: Makey Makey Classic!
What Can I Make?
That's up to you! First, load up a computer program or any webpage. Let's say you load up a piano. Then, instead of using the computer keyboard buttons to play the piano, you can hook up the MaKey MaKey to something fun, like bananas, and the bananas become your piano keys:
How Does it Work?
Alligator Clip two objects to the MaKey MaKey board. For example, you and an apple.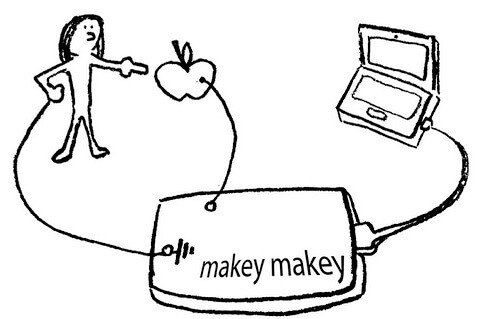 When you touch the apple, you make a connection, and MaKey MaKey sends the computer a keyboard message. The computer just thinks MaKey MaKey is a regular keyboard (or mouse). Therefore it works with all programs and webpages, because all programs and webpages take keyboard and mouse input.
Make + Key = MaKey MaKey!
With MaKey MaKey, kids can start inventing right away, and experts can make working prototypes in minutes instead of days.
What materials work with MaKey Makey?
Any material that can conduct at least a tiny bit of electricity will work. Here are some materials people have used in our workshops including Ketchup, Pencil Graphite, Finger Paint, Lemons, etc. Other materials that work great: Plants, Coins, Your Grandma, Silverware, Anything that is Wet, Most Foods, Cats and Dogs, Aluminum Foil, Rain, and hundreds more…
What Does the Back of the Board Look Like?
The back of the board has hookups for 6 keyboard keys, and mouse control. It also has the open hardware logo, a link for help getting started, and an area for using the board in Arduino mode.
Wait… Is this thing an Arduino?
You could say this board is 2 in 1. MaKey MaKey runs on top of Arduino. You can start using your MaKey MaKey board in "Arduino mode" at any time. This would allow you to spin motors, turn on LEDs, or anything else that an Arduino can do. If you want to learn to use Arduino or other electronics, but want to start without any programming or breadboarding, MaKey MaKey is a good starting point. There's no need to understand Arduino in order to use MaKey MaKey.
Seriously, I Am a Geek, Tell Me All the Krazy Tech Stuff
MaKey MaKey is a printed circuit board with an ATMega32u4 microcontroller running Arduino Leonardo firmware. It uses the Human Interface Device (HID) protocol to communicate with your computer, and it can send keypresses, mouse clicks, and mouse movements. For sensing closed switches on the digital input pins, we use high resistance switching to make it so you can close a switch even through materials like your skin, leaves, and play-doh. We use a pull-up resistor of 10-50 mega ohms. This technique attracts noise on the input, so we use a moving window averager to lowpass the noise in software, saving money on hardware filtering. There are six inputs on the front of the board, which can be attached to via alligator clipping, soldering to the pads, or any other method you can think of. There are another 12 inputs on the back, 6 for keyboard keys, and 6 for mouse motion, which you can access with jumpers via the female headers. If you wish to use a different set of keys, or otherwise change the behavior of your MaKey MaKey, you can simply reprogram it using the Arduino environment. By cutting a trace on the back of the board, you can disconnect the large pull-up resistors if you want to, which would be necessary in a small minority of Arduino projects.
You can buy from Amazon.com and Makey Makey's website. A collector's edition is available too.
If you have already bought one, check out this tutorial here.
Makey Makey - An Invention Kit for Everyone, Joylabz
Price History
Statistics
| | | |
| --- | --- | --- |
| Current Price | $47.98 | 2nd June 2020 |
| Highest Price | $49.95 | 13th November 2019 |
| Lowest Price | $31.78 | 11th October 2019 |
Since 11th October 2019
Last price changes
| | |
| --- | --- |
| $47.98 | 12th February 2020 |
| $49.95 | 13th November 2019 |
| $32.97 | 28th October 2019 |
| $44.39 | 25th October 2019 |
| $31.78 | 11th October 2019 |