The Messograf Caliper Pen is a "Swiss army knife" disguised as a pen. It is not only a retractable, refillable ballpoint pen, but a caliper rule, ruler, a screw thread scale and a tire-tread gauge. Not to measure air pressure, but to determine tread depth. Only this multipurpose tool does not have a knife. It also does not hail from Switzerland, but Germany. The chromium-plated brass is also super sleek.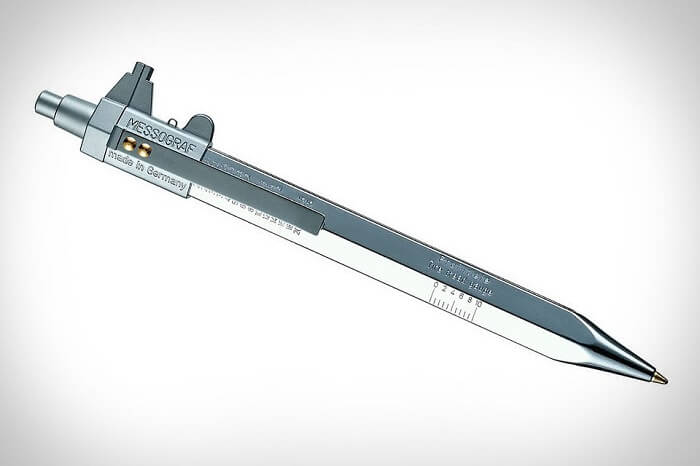 You have a 4″ exterior Vernier caliper (0.1mm metric and 1/16″ inch scale). In addition, there is a metric screw thread scale and a tire tread gauge.
Made in Germany from chrome-plated brass, the Messograf Caliper Pen has since travelled worldwide with entire generations of engineers across the globe finding these top quality pens indispensable in their everyday professional life.
Features
Made in Germany and is the best looking pen on the block
It's a pen, it's a Vernier caliper, it'll check your tire tread!
Retractable ballpoint pen to mark down your measurements
4″ exterior Vernier caliper (0.1mm metric and 1/16 inch scale)
Messograf Caliper Pen, Cleo Skribent® of Germany
Price History
Statistics
| | | |
| --- | --- | --- |
| Current Price | $26.95 | 19th March 2020 |
| Highest Price | $26.95 | 14th January 2020 |
| Lowest Price | $20.96 | 23rd December 2019 |
Since 23rd December 2019
Last price changes
| | |
| --- | --- |
| $26.95 | 14th January 2020 |
| $20.96 | 23rd December 2019 |