The dazzle MOXO X-1 levitating bluetooth speaker is using the principle behind the maglev train (derived from magnetic levitation) to overcome the earth gravity, air suspension, free rotation!
It uses a magnetic base and 4 suspension sensors to position and suspend the speaker in air, and even let it rotate while playing music.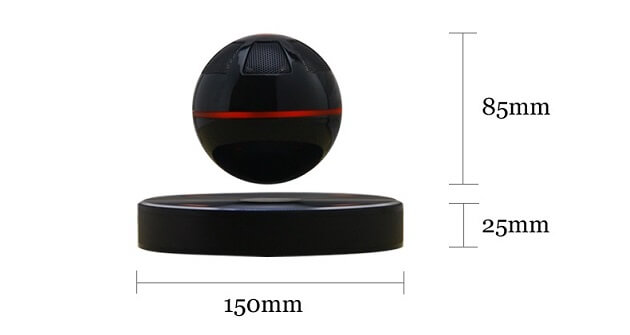 It connects with any Bluetooth enabled devices; it supports Bluetooth 4.1 for faster data transmission speed and more stable audio fidelity. If your device supports NFC (near field communication), you can pair the smart phone/ tablet by placing it close to the NFC point on the top of speaker.
The MOXO has a built-in 1500mAH lithium battery that supports for up to 10 hours of continuous playback. It can be charged using the USB interface which can also be used to charge your mobile devices too!
Available at Amazon and Banggood

Primary Features
Supports: Bluetooth, NFC
Compatible With: Mobile Phone, iPhone, Laptop, Tablet PC, MP3
Connection: Wireless
Interface: Micro USB
Audio Source: Bluetooth Enabled Devices
Technical Parameters
Bluetooth Version: Bluetooth 4.1
Transmission Distance: W/O obstacles 10m
Freq: 40HZ-20KHZ
S/N: 85dB
Distortion: THD
Dimension and Weight
Product Weight: 0.928 kg
Package Weight: 1.630 kg
Product Size (L x W x H): 15.0 x 11.0 x 15.0 cm / 5.90 x 4.32 x 5.90 inches
Package Size (L x W x H): 22.0 x 20.0 x 21.0 cm / 8.65 x 7.86 x 8.25 inches
MMSS MOXO X -1 Portable Wireless Bluetooth Floating Levitating Maglev Speaker, MMSS
Price History
B4M ORB-Dark Black Portable Wireless Bluetooth 4.1 Floating Sound Levitating Maglev Speaker (NFC), B4M
Price History