If your children find brushing their teeth boring and mundane, you might be interested in the Playbrush, an innovative smart device that attaches to any manual toothbrush and transforms it into a game controller. When connected to your smartphone or tablet, kids are able to play fun and instructional mobile games. Playbrush makes brushing your teeth finally fun and help children improve their oral hygiene habits and overall dental health.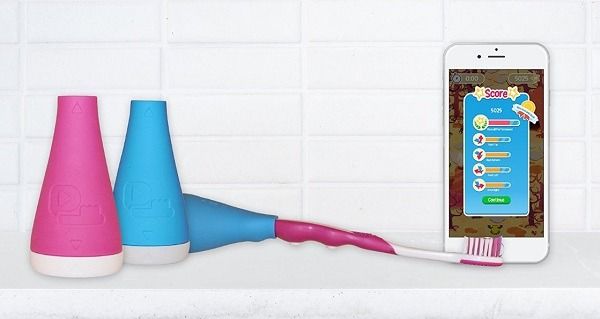 FUN
Playbrush combines daily toothbrushing with the enjoyment of mobile games. Thanks to the main device (which turns any toothbrush into a gaming controller) and the mobile games.
Children dive into Utoothia, a magical toothbrushing world, and control their journey via their daily toothbrushing behavior. By helping the Tooth Fairy fight evil bacteria monsters, they learn to brush regularly, accurately and long-enough in an entertaining and instructional way. Different games, multiple challenges, levels and avatars ensure that Playbrush transforms the daily oral hygiene into a fun and child-friendly adventure.


INSTRUCTIONAL
Playbrush gets kids to brush all around their mouth, for 2 minutes and twice a day. But its smart algorithm does not only measure duration and regularity, it also measures brushing behavior, in particular, the position of the toothbrush in the mouth and provides children with real-time in-game feedback where to brush. By doing so, children are encouraged to brush more regularly, for longer and more accurately.
CONVENIENT
It is not a conventional toothbrush, but an add-on so that it works with almost any manual toothbrush. Thus, children can easily share one device, making it affordable for most households.
Although Playbrush is developed specifically for children between 4 and 11 years, plenty of teenagers, grown-ups and even seniors enjoy playbrushing twice a day.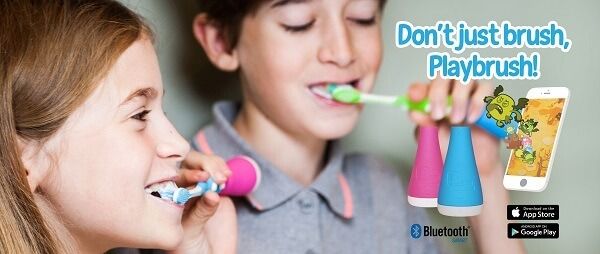 The main features of Playbrush are:
– Free access to the mobile game. Enter Utoothia and save the Tooth Fairy.
– Gets kids to brush all around their mouth, for 2 minutes and twice a day.
– Easy to hold for children of all ages and its stretchable head means it will fit any manual toothbrush.
– Attaches to any manual toothbrush and thus, only one device is needed for the whole family!
– Leaderboard will get the whole family involved and make brushing even more fun.
– Only needs to be recharged once a month.
For more information, jump over to Playbrush or Amazon.com.
Check out the videos below to learn more about this unique way to add a little more fun to teeth brushing time.