No more dropped, scratched or broken glasses! Keep your glasses securely attached to your clothes using the ReadeREST Magnetic Eye-wear Holder.
Simply slide the magnetic back plate under your shirt or pants, then place the hanger clip in front of your shirt and hang your glasses from it. Watch as magnetic force keeps it all in place – you can even bend over without your glasses falling out. Safe and simple!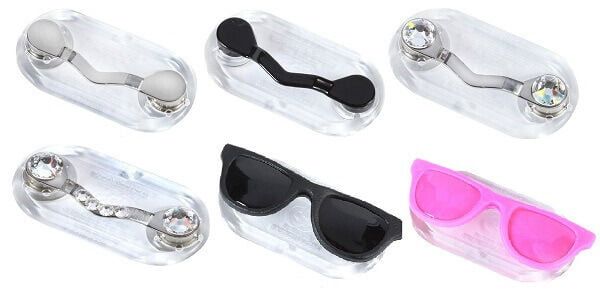 Comes in various looks and materials: Stainless steel, Stainless, Black, Swarovski Crystal and Shades. Get this from Amazon.com or ReadeREST.
Perfect for holding sunglasses, safety glasses, reading glasses, earbud wires and badges. It's an innovative way to secure your eye-wear without putting holes in your shirt or wearing a lanyard. Great gift suitable for extreme sports lovers to teachers and hospital workers, as it works with all kinds of clothing!