Why drink in a glass that sweats? Don't you hate it when the handle gets cold as well?
This Bar Brat's Stainless Steel Beer Mug will solve all these. It's perfect for beer, coffee, or hot chocolate and more!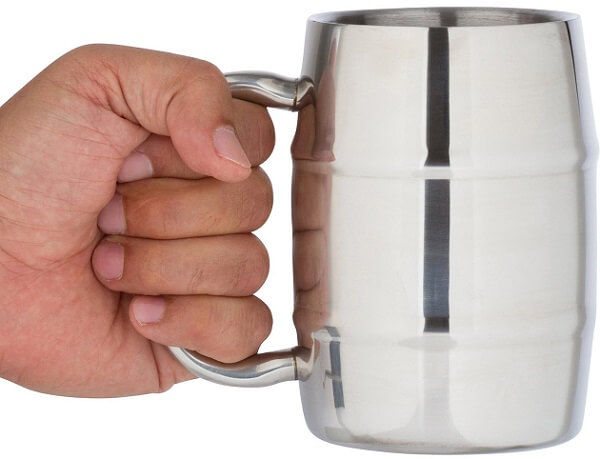 MADE OF PREMIUM 304 STAINLESS STEEL -This Stainless Steel Beer Mug is made of kitchen grade stainless steel. It's 100% BPA Free and dishwasher safe.
HOLDS UP TO 16.9 OUNCES – It is large enough to hold a full pint of beer (standard beer bottle glass) with enough room for a thick, foamy head. It's double-walled with a layer of sealed air acting as a natural insulator, which keeps your cold drinks cold and your hot drinks hot.
HANDLE REMAINS ROOM TEMPERATURE – But don't worry — the thick handle stays at room temperature no matter what you're drinking, meaning you can hold it for as long as you'd like.
ZERO SWEATING WITH THIS MANLY STEEL MUG – Bar Brat's Stainless Steel Coffee Mug does not sweat, so no need for a coaster. Place it on any regular surface to your liking. Keep it in the freezer and dishwasher safe!
WITH AIR TIGHT "BONUS LID" – PERFECT GIFT FOR COFFEE CUP & BEER CUP DRINKERS – Bonus lid is air tight and perfect for coffee and tea drinkers who are on the go. Doesn't matter what beverage you prefer, the Bar Brat Steel Mug is stylist, manly, elegant and perfect for any beverage.
It's comes in an elegant package, so making it perfect for gifts. Buy one for a Revolutionary Beer Experience!
Primary Benefits
Double Air Insulated Mug keeping your beer colder for longer or your tea or coffee hotter for longer
Can hold an entire pint of beer
Handle remains room temperature
Steel mug is dishwasher safe
Never worry about the beer mug sweating because it is double wall insulated.
Comes with a BONUS LID for travelers, coffee and tea drinkers.
100% Lifetime money back guarantee.