When you add any hot beverage to this Star Wars Lightsaber Heat Change Mug, the lightsabers gradually grow up right to the top of the mug, like they're being switched on. This is a great mug for any Star Wars fan who also enjoys hot beverages! Even after the mug is empty, the lightsabers will slowly change back. The mug comes in a cute box already for gift giving.


This standard size coffee mug (12 oz / 350ml) has the names of all owners of the 13 lightsabers listed along the bottom. It comes in a nice gift box, which is great if you intend to give it as a gift or keep it as a collectible.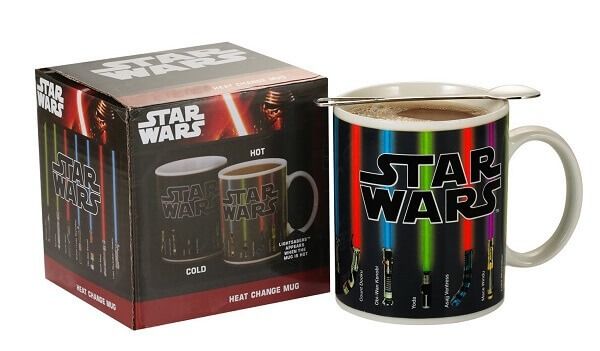 The little spoon included is adorable, and is good for stirring your hot cocoa into the water, or mixing sugar and cream into your coffee. This mug would make a perfect gift for any Star Wars fan!
Features and specifications
HEAT ACTIVATED – Pour in hot liquid and watch the LIGHTSABERS magically appear from the hilts, our color-changing mugs are thermochromatic, which is a scientific word for magic
13 LIGHTSABERS in TOTAL – from Yoda, Darth Vader, Anakin, Luke Skywalker, Obi-Wan Kenobi, Qui-Gon Jinn, Kit Fisto, Count Dooku, Asajj Ventres, Mace Windu
STANDARD 12 fl oz VOLUME- Mug holds up to 12 fl oz/350 mL liquid. It is 100% ceramic, FDA approved, and BPA free
HANDWASH ONLY – Mug is handwash ONLY, not safe for microwave or dishwasher. Do not scrape the printing with sharp and/or hard tools
A PERFECT GIFT – For Star Wars fans or anyone looking for a place to put their coffee, hot beverages, hot chocolate or tea. May the FORCE be with YOU!
Warnings: NOT suitable for dishwasher or microwave use.
With a Free Premium Stainless Steel Coffee Stir Bar, length: 4.2inch
BUY CONFIDENTLY with 100% Money Back Guarantee
Coffee Mug - Star Wars Lightsaber Heat Chage Mug - Star Wars Cup 100 Percent Ceramic - Not Dishwasher or Microwave Safe - 12 Fl. Oz - Black - with Premium Stainless Steel Coffee Spoon
Price History