Now you can track your travels around the world with this unique Suck UK Cross Stitch Map. This Cross Stitch Map is a world map, printed on cross stitch fabric and mounted on a wooden frame.
It's a great gift for a traveller who needs a therapeutic time to recuperate from her latest adventure with a bit of crafty cross stitching!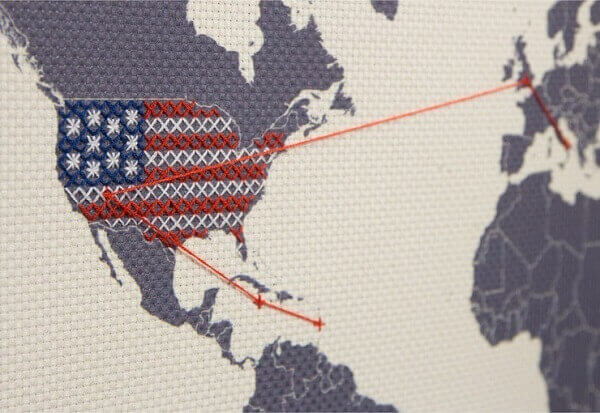 Record every far-flung holiday and adventurous road trip with colourful cross stitch. Use different coloured threads for each journey, or personalise with icons and text. Easy to stitch, with everything you need to create your own unique wall hanging!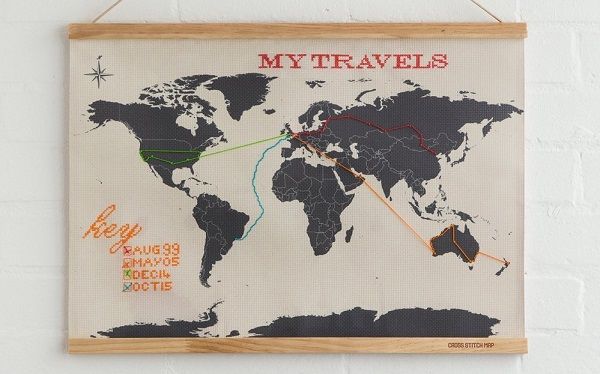 Includes:
Pine wood frame
11 count polyester canvas map
4 colours of embroidery thread
2 embroidery needles
Material: Pine wood, polyester
Dimensions: 59.2cm x 44cm x 1.8cm
Supplied in an attractive cardboard tube
Designed by Emma Royston for Suck UK.
Check out the SUCK UK Cross Stitch Map in the video below.

SUCK UK Cross Stitch Map, SUCK UK
Price History
Statistics
| | | |
| --- | --- | --- |
| Current Price | $32.45 | 16th January 2019 |
| Highest Price | $32.74 | 20th August 2018 |
| Lowest Price | $30.00 | 4th January 2019 |
Since 20th August 2018
Last price changes
| | |
| --- | --- |
| $32.45 | 16th January 2019 |
| $30.00 | 4th January 2019 |
| $32.26 | 26th December 2018 |
| $32.73 | 22nd October 2018 |
| $32.74 | 20th August 2018 |
SUCK UK Map Cross Stitch Kit, SUCK UK
Price History
Statistics
| | | |
| --- | --- | --- |
| Current Price | £22.07 | 16th January 2019 |
| Highest Price | £22.84 | 4th January 2019 |
| Lowest Price | £21.99 | 7th November 2018 |
Since 7th November 2018
Last price changes
| | |
| --- | --- |
| £22.07 | 16th January 2019 |
| £22.84 | 4th January 2019 |
| £22.61 | 26th December 2018 |
| £21.99 | 7th November 2018 |