With the DUBSTEIN Bluetooth Speaker, you can have your music and drink in it too. Started as a Kickstarter project in 2014, this unique product combines a portable Bluetooth speaker, a beverage holder and a drink koozie, so that you can play music while you drink.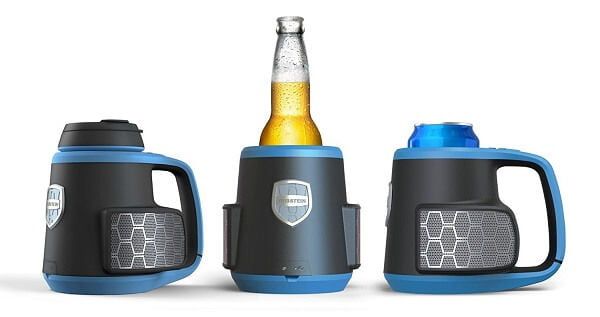 MUSIC + DRINK
The splash-proof DUBSTEIN plays the dual role of Bluetooth speaker system and drink holder. Use the included beverage insert (BPA-free, dishwasher safe, 375ml), or remove the insert and put a bottle or can in its place, while blasting your favorite music to drink to. It is compatible with both hot and cold beverages.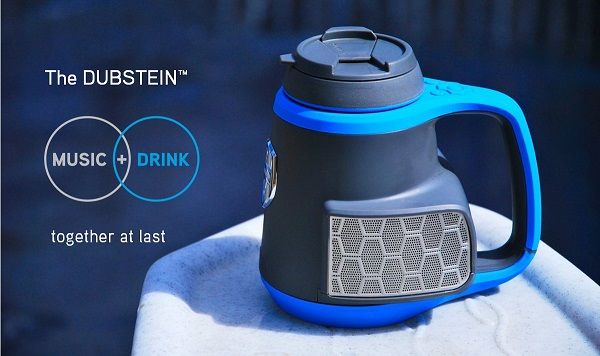 BLUETOOTH CONNECTIVITY
Wirelessly play your music, stream internet radio, or take a phone call – synced via Bluetooth 4.0 to your smartphone, MP3 player, tablet or computer.The rechargable battery gives the DubStein up to a solid 15 hours of playtime.
Hi-Fi 360 DEGREE STEREO SOUND
The DUBSTEIN promises high quality stereo sound. With an acoustic chamber comprised opposing speakers and dual bass radiators, the DUBSTEIN delivers rich 360 degree stereo sound for you. It also has dual bass boost and even a built-in microphone for taking hands-free calls.
ERGO THUMB CONTROLS
The DubStein places the controls right at your thumb for easy access. The audio thumb control pad allows you to adjust volume, track selection, or answer your phone.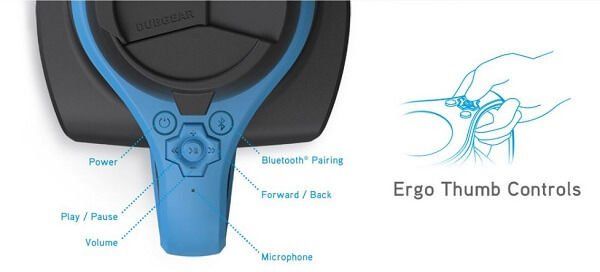 A perfect gift to someone who loves camping, BBQs, or simple drinking alone at home with music.
DubStein by DubGear Audio - World's 1st Bluetooth Splashproof Stereo Speaker with Beverage Integration (Wirelessly Play/ Stream Music, Phone Call Speakerphone Plus Drink Holder/ Beer Stein), DUBGEAR
Price History