Based on the popular word game, these customisable Scrabble Lights features a string of 10 lights shaped liked large Scrabble letter tiles, with 60 reusable transparent letter stickers to mix and match as you desire – so that you can create your own illuminated words, names or short messages, such as 'I Love You', and have them all lit up in your favourite place.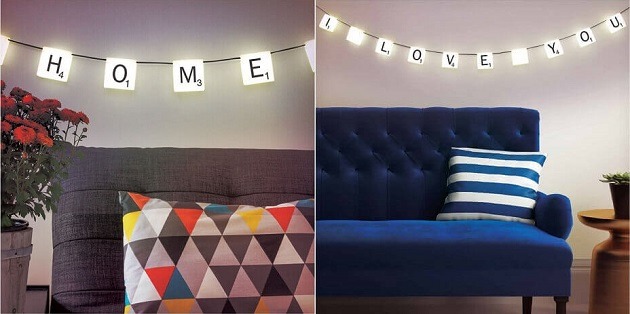 Each tile is 6cm x 6cm (2.25″ x 2.25″), and when displayed the entire length of the string of ten lights is approximately 180cm (70″) end to end. Included is a mains power adapter and cable. Please note that the LEDs are non-replaceable.
Now you can impress your friends the next time you all get together or Scrabble game nights and other joyous occasions like birthdays and anniversaries, when you can even put the birthday boy or girl's name in lights, or send them a message in style with this quirky Scrabble Light!
Features:
Lovely lighting option for your home
Contains 10 blank tiles and 60 re-usable transparent letter stickers
See your name in lights or send a message in style
Add letter stickers to create your own personal message
A quirky addition to any home
Perfect for Scrabble fans
Dimensions:
Each Scrabble tile light is 6 x 6 x 2cm
String of 10 Scrabble tile lights is approx: 180cm
Box Dimensions: 28 x 20 x 5.5cm
Box Contains:
10 x 6cm by 6cm Scrabble Tile Lights (Rated input 5V DC 500mA)
60 x Re-usable Letter Stickers
1 x Mains Adapter with 2m (approx) cable
Available on Amazon as well only for US delivery.
Paladone Toy Box Scrabble Light, Paladone Product - Toy
Price History