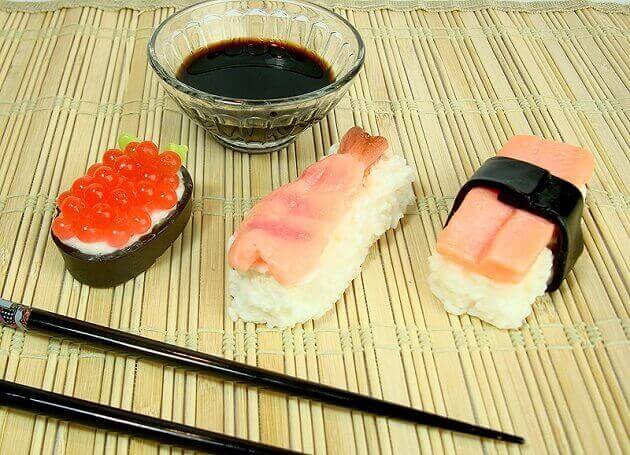 This Goat's Milk Sushi Soap Set is a handmade soap made from all natural ingredients that can spice up your bathroom. It's inspired by the aromas of these Japanese food: sushi rice with mirin, a slightly sweet, zingy, hot wasabi and umeboshi – pickled plum.
In each of this each Bento scented set, you'll receive 3 bars of soap that weigh approximately 4.5oz total: an ikura, an ebi nigiri, and a sake nigiri roll – soap that looks like the real thing! They are hand made, so size may vary slightly from bar to bar.
Your soaps will be packaged in clear wrap with fragrance description and ingredients; lovely as a gift.
The Goat's Milk Sushi Soap Set is gentle to sensitive skin; it is said to have restorative properties, making your skin softer and moisturised.
Ingredients: Coconut Oil, Palm Oil, Castor Oil, Safflower Oil, Glycerin, Purified Water, Sodium Hydroxide, Sorbitol, Goat's Milk, Sorbitan oleate, Soybean protein, Titanium Dioxide, Fragrance, colorant.
If you would like to make it yourself, here are some resources that may be helpful:
– Sushi molds from flexiblemolds
– Cake soap powder from Etsy
– Sushi soap tutorial