Today is Earth Day. Earth Day is a great time to remember to save some energy? Make a stand and celebrate Earth Day 2015 with solar energy and these solar-powered products.
1) Kikkerland Solar-Powered Rainbow Maker – $30
Get this window-mount solar-powered rainbow maker that casts rainbows around the room as the unit revolves and refracts light in all directions. Genuine Swarovski crystal creates maximum rainbow effect
to lighten up a room for adults, children, and pets.
Check out this video for a demonstration of the Rainbow Maker.
Comes with options of a stand, heart-shaped crystals etc.
Get it from Amazon.
2) Solar Charger Backpack (7W) with 1.8L Hydration Pack – $74.99
Enjoy free limitless power on the go with this solar charger equipped backpack. It allows direct charging of a variety of devices- iPhones, Samsung, other smart phones, External Battery Packs, GPS systems, MP3 Players, Bluetooth Speakers etc. Its voltage stability controller protects your device against damage from unstable sunlight/current. It comes with a 1.8 L bladder / hydration pack and plenty of pockets / compartments for maps, documents and essential gear. It's made of high quality nylon fabric and weights only 2.6 lbs. Perfect for backpacking, trekking, mountaineering, fishing or biking!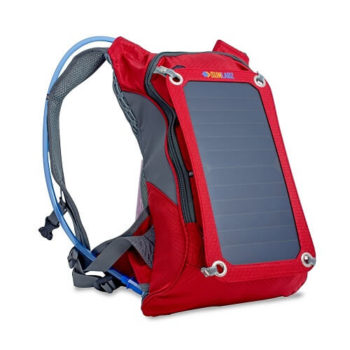 Get it from Amazon.
3) Logitech Wireless Solar Keyboard – $47.99
Battery hassles are a thing of the past with the solar-powered Logitech Wireless Solar Keyboard K750.
This solar-powered keyboard charges itself with any light, including the one on your desk. So you can say goodbye to battery changes and charging cables—all with a streamlined design that looks and feels great.

Get it from Amazon.
4) Solar Powered Outdoor Wireless Speaker – $69.84
Enjoy a versatile audio experience with the Pyle SunBlast. Combine wireless music streaming, hands-free call-answering and wireless charging capability with this all-in-one speaker system. The SunBlast is lightweight, portable, powerful — and definitely ready for some fun in the sun!
Get it from Amazon.
5) Solar Panel Charger
The Solstar Solar Panel Charger captures more sunlight and converts this light into energy more efficiently, provide endless juice for your devices, completely replacing "pollutional" battery pack to protect environment.

Get it from Amazon.
6) Solar Mechanics – $23.57
Build more than 20 solar-powered models to learn about how solar cells convert energy from sunlight into mechanical energy. Conduct experiments with the solar cell to see how different placement angles, different light levels, different sources of light, and different loads affect its operation. Learn about solar power in a fun, hands-on way. This kit includes a unique single-piece solar motor that is composed of a photovoltaic cell and an electric motor joined together in one compact unit. With this solar motor, you can power dozens of electric vehicles and devices.


Get it from Amazon.

7) SOLAR Scientific Calculator (Casio fx-260) – $9.99
Get this all purpose Scientific Calculator that offers fraction calculations, trigonometric functions and more. Includes a slide-on hard case and it is solar powered.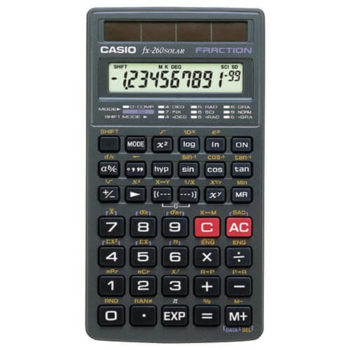 Get it from Amazon.
8) Solar Stainless Steel Multi-Function Watch – $154.53
The Casio Men's Edifice Solar Stainless Steel Multi-Function Watch features 29-city world time, subdials with 1/100th-chronograph, and date window at 4 o'clock. It is made up of stainless steel, 46 mm case and mineral dial window, and powered by solar due to the movement with analog display.
Stainless steel band with fold-over push-button clasp and it is water resistant to 100 m (330 ft).
Get it from Amazon.
There are other ways to contribute to saving the Earth. Ideally, Earth Day should be more than just a day.
In honor of Earth Day 2015, Apple have created a section for eco-friendly apps through iTunes for consumers to download resources on the environment.
Here are some good articles