Imagine having truly wrinkle-free clothes without ironing. Sure, "wrinkle-free clothes" may be the next best thing to have, but there are a few techniques you can use to straighten your clothes without lugging out your ironing board. Here's our favorite ways to remove wrinkles out of clothes that may have you wondering why you have an iron in the first place.
1. Use a Flat Iron Hair Straightener
Well, you may argue that they are still irons – straighteners work because they have flat plates that get hot and add pressure to your clothes, very much like what an iron does. You won't need a full-size hair straightener for this – a small one like the BaBylissPRO Nano Titanium Mini will do great!

It's perfect for small touch-ups and hard-to-iron areas such as shirt collar and between buttons. Remember not to hold it down in an area for too long, and make sure the flat iron does not have hair products on it, or it may burn your clothes.
2. Use your shower steam
Hang your clothes on your towel rack or shower rod while showering. The steam will flatten out most creases. Make sure the bathroom door is properly closed, so steam can't escape. It should take more than 15 minutes for the steam to work its magic.
3. Use a garment steamer
A garment or fabric steamer like the powerful and portable PurSteam quickly delivers steam powerfully and evenly to remove the toughest wrinkles from a multitude of fabrics.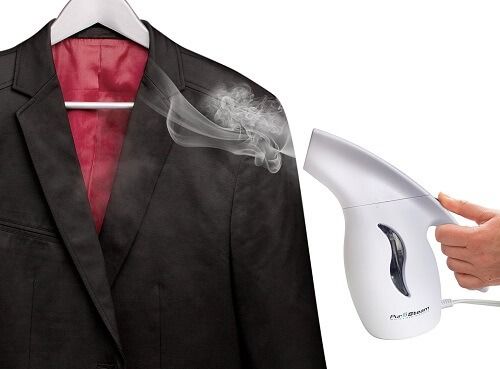 4. Use wrinkle-removing sprays
Using a wrinkle-removing sprays such as the Downy Wrinkle Releaser Plus to get rid of wrinkles. Spray it on your clothes and smooth it out while it's damp, and you'll see the wrinkles magically disappearing. Does it really work? Yes, according to the video below:
5. Blow-dry
Dampen the wrinkled areas with water, and then gently blow-dry it on low heat, while holding it about two inches away from your clothing to preventing overheat the fabric.
6. Tumble dry
Slightly dampen your clothes, and then put them in the dryer on low heat setting for about 15 minutes. You can also put a damp sock into the dryer instead of spraying water. Be sure to hang your clothes immediately after you take them out of the dryer.
7. Hang your clothes right after doing laundry
This works well for T-shirts, and wrinkle-free clothes. Take your clothes out from the dryer as soon as you can and hang them up.