Getting ready to pop the question is stressful enough as it is, and the last thing you want is a bulky engagement ring box in your pocket ruining the surprise. Most engagement ring boxes are just way too large to be inconspicuous. You probably don't want the surprise to be ruined by her seeing a bulge in your pocket even before you ask her to marry you.
You can wear a coat to hide the ring, keep it in your bag, hide it at your proposal location, or have someone bring it out to you. But if you want a more fuss-free plan, you can also have a naked engagement ring in your pocket? No, this is hardly the ideal solution either, since it may cause you to be overly nervous, worrying that you might lose it or drop it when the actual proposal moment came.
Suggested below are some possible slim engagement ring boxes that were specifically designed to provide the solution to this common problem. The prices are steep, but they could be worth the price, if what you get is a perfect marriage proposal!
The Ring Stash is a thin engagement ring box that can be easily hidden while at the same time being durable enough to protect it. The case measures only a fraction of the size of a normal ring box:
while normal ring boxes measure around 2 inches thick, the Ring Stash slim engagement ring box is just 0.5 inches thick, which makes it extremely easy to hide in your pocket. The Ring Box is very durable so that it will protect the ring inside and it even has a little pedestal pocket so that the ring isn't just bouncing around inside the box.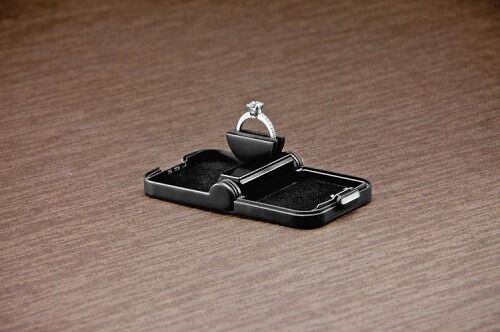 While stylish-looking, it feels a bit toy-like, perhaps due to its plastic material. But I like it that the Ring Stash can be opened with just a simple press of a button without having to pry your fingernails inside the ring box. The way the Ring Stash works is that when closed, the ring is laying flat with the box, but as you open it, the ring turns to be parallel with the box and then presented in a majestic manner atop a pedestal for the ring.
2. Clifton– CAD$99.00–CAD$109.00
Clifton is a flat engagement ring case that can be easily slipped into the pocket or the wallet. Bound in genuine leather, Clifton is a paper-based jewel case that is designed for the proposal occasion.


Clifton is fashioned with a discrete exterior and an elegant interior. Similar in thickness with the Ring Stash", Clifton is approximately 1cm thick. It presents the ring with a delightful flower blooming effect when opened.
Started out as a Kickstarter project, the 'secret' by Parker Square is designed not just to conceal a ring during your proposal; it incorporates special features to enhance the brilliance and scintillation of your diamond.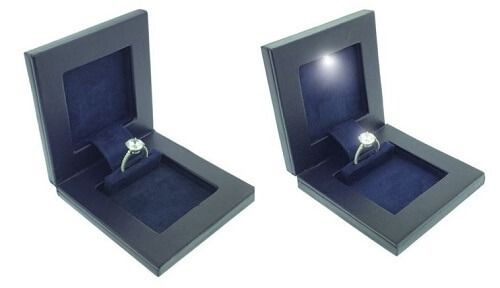 The inside of the full grain leather box is lined with a dark blue suede to help enhance the look of the ring. Once the box is opened, a rising platform elevates the ring upwards to help put it front and center. You can even get an optional model that will shine a built-in miniature LED light on the ring at night, to give that extra shine for proposals in dark romantic settings such as a candlelit restaurant or a park at night. In addition, the frame inside the top of the box allows you to add your picture or a special message to really personalize your delivery.
The silver-plated Rose Ring Holder is not the slimmest, especially if you consider its stalk. And it is pretty heavy too. This rose is beautiful and well made. It has a magnet that keeps the top closed and very secure. Not all rings fit comfortably in it, so you might have to make some minor adjustments.

If you would like a more traditional engagement ring box with the night light, do check out at Amazon.com.
Hope that one of these boxes can make the occasion all the more memorable when your partner says yes.