Zen Cosmetics makeup organizer is a glamorous storage unit that's designed to hold onto your beauty essentials. Its grippy silicone base accommodates primping tools of varying sizes, from brushes to pencils to tweezers. It'll keep you looking your best and your counters clutter free.

That mess of makeup tools is a bad look, so Quirky designed Zen Cosmetics' silicone base to put them in their place. Decked out in an assortment of soft hues, this is one organizer that doesn't need to be hidden – it looks great right out in the open.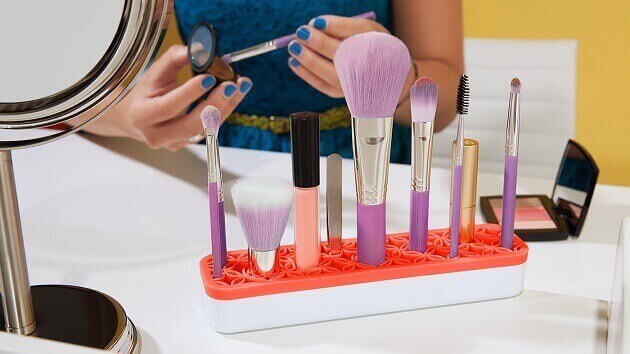 Zen Cosmetics makeup organizer can also be used on a desk, like the Pen Zen Desk Organizer. It securely holds all sorts of items like pencils, scissors, and markers as well.
The one sold here is orange in colour, but it also comes in grey and green. Get one to stay organized and free yourself from fumbling over your brushes and other cosmetics!
Specifications
Materials Plastic, silicone
Dimensions 8.3″ L x 2″ W x 1.3″ H (210mm x 52mm X 34mm)
In The Box 1 Zen Cosmetics makeup organizer
Instructions
Quirky Zen Cosmetics, Orange, Quirky
Price History
Statistics
| | | |
| --- | --- | --- |
| Current Price | $19.14 | 15th October 2018 |
| Highest Price | $19.14 | 11th October 2018 |
| Lowest Price | $19.13 | 10th October 2018 |
Since 10th October 2018
Last price changes
| | |
| --- | --- |
| $19.14 | 11th October 2018 |
| $19.13 | 10th October 2018 |
Quirky Zen Cosmetics, Pink, Quirky
Price History
Statistics
| | | |
| --- | --- | --- |
| Current Price | $19.13 | 15th October 2018 |
| Highest Price | $19.14 | 23rd June 2018 |
| Lowest Price | $18.77 | 11th June 2018 |
Since 11th June 2018
Last price changes
| | |
| --- | --- |
| $19.13 | 15th October 2018 |
| $19.14 | 11th October 2018 |
| $19.13 | 29th September 2018 |
| $19.14 | 23rd June 2018 |
| $18.77 | 11th June 2018 |