Valentine's Day is coming! How do you plan to express your love to your special gal? Do you want to give beyond the usual gifts of flowers, jewelry or chocolate? Here are the top ten gifts recommended (For Her) by Hunt Simply for that special someone in your heart this Valentine's Day! Check it out!
1. Ring For A Massage Hand Bell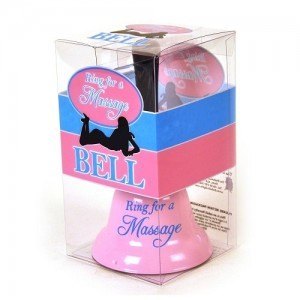 This gift is a great idea for girlfriends, fiancees, or wives who love a massage (most women do)! By giving this, you will certainly score high points as you are showing them that you are available to give them their well deserved Massage after a hard day at work or at home taking care of the children! Add a sweet message to this gift to show them how much you love them!
Get it at Amazon.
2. Photo Stainless Steel Travel Tumbler – Create Your Own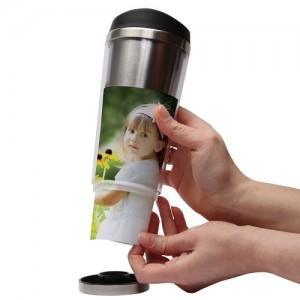 This Photo Stainless Steel Travel Tumbler would make a great gift, especially when you personalise it with your own photo, or a photo of both of you at a special moment (eg. wedding day) or a family photo. It can also be used in the office or at home, allowing your special someone to be reminded of you whenever they drink from it!
Get it at Amazon.
3. "Me without You" Book
Are you looking for the perfect way to say I love you to a special someone but you are at a loss of words? You can get this book Me Without You which is beautifully crafted by famed cartoonists Lisa Swerling and Ralph Lazar. This book features countless cute color illustrations of scenarios that are simply incomplete without two.
Get it at Amazon.
4. The Romantic Coupon Book
This Romantic Coupon book is another great idea to give to your loved one who loves the idea of you being a ROMANTIC Guy! This coupon book which contains 22 beautifully illustrated coupons would add some romance (and humor) to your love relationship!
Get it at Amazon.
5. Six Love Note Mini Envelope Valentines Card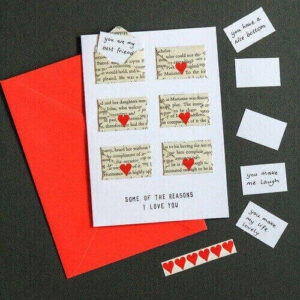 Do you want to get a special card for your Valentine? What is special about this card is that there are 6 mini envelopes which are hand made from the pages of books by the romantic literary great, Jane Austin. Titles used include Emma, Pride & Prejudice and Sense & Sensibility. They are attached to a greetings card and supplied with six blank mini notecards – so you can fill in six of the many reasons you love your other half! Comes with six mini heart stickers with which to seal your envelopes.
Get it at notonthehighstreet.com.
6. Personalised Never Forget Wooden Key Ring
This personalised wood keyring is engraved with your special date and message. It could be your wedding anniversary or a special date to commemorate between the two of you. Each keyring will be presented in a beautiful glassine gift bag, ready for gift giving.
Get it at notonthehighstreet.com.
7. You Are Beautiful Earring Bowl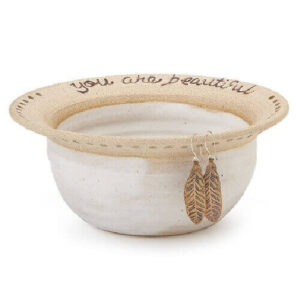 For your Valentine, who loves to wear accessories like earrings or necklace, this gorgeous hand-sculpted bowl would make a great gift. It also comes with the wordings "You are beautiful" to serve as a heartfelt reminder that true beauty can be found within. This hand-poked earring holes can dangle 18 pairs of long earrings, and the bowl can also keep your go-to necklaces, bracelets, and pins on display.
Get it at uncommongoods.com.
8. Aroma Home Screen Wipe, Duck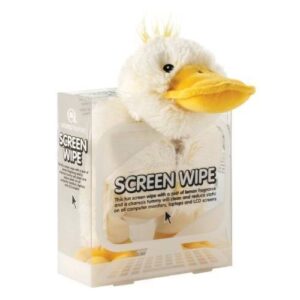 For a useful cutesy gift, you can consider the Computer Care Screen Wipes. They are little chamois cloths that come in a funny ducky, gorilla, giraffe or tiger case.
Get it at Amazon.
9. Sportline HydraCoach Intelligent Water Bottle

This gift is good for all ladies who often forget to drink sufficient water to hydrate themselves. Drinking water is good for the lady's complexion and for general good health. This Intelligent Water Bottle can help your girlfriend or wife to calculate her personal hydration needs, track her fluid consumption through the day, pace her to ensure hydration goals are met, motivate her to stay properly hydrated to gain enhanced strength and endurance.
Get it at Amazon.
Is she someone who is health conscious? You can get a packet Chia Seeds to boost her health and her body is sure to thank you greatly for it! Do you know that Chia is the richest plant source of Omega-3 fatty acids? It has a good range of B vitamins, more calcium than milk, healthy omega-3 oils, high levels of anti-oxidants, and important trace-minerals such as boron, which prevents arthritis and osteoporosis. The seeds are also a good source of dietary fibre.
Get it at Nature's Superfood (if you are in Singapore) or at Amazon.
You may be interested in this article on finding the "perfect gift" for your Valentine as well. Have fun hunting!