Chinese New Year is just around the corner. The festival is often celebrated with many traditions including buying and wearing brand new clothes and accessories on New Year's Day to signify a new start.
Are you bored with the same old unadventurous and uninspired outfit for Chinese New Year?
Here are some Chinese New Year T-shirts that may spice up the celebrations.
According to dictionary.com, an old goat can refer to (i) an elderly man who is disliked, especially for being mean to or disapproving of younger people, or (ii) a lecherous man, especially one considerably older than those to whom he is attracted. Hmm, who are you giving this shirt to?
Get it at CafePress.
2. KEEP CALM Chinese New Year T-Shirt (for Toddlers)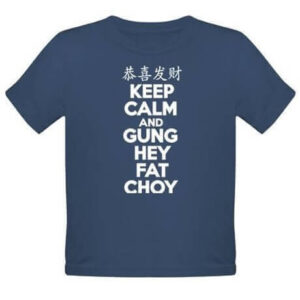 恭喜发财 (Chinese) and Gong Hey Fat Choy (Cantonese) can be translated as "May you be happy and prosperous (rich)". "Fat" is not fat, by the way. Being rich might not make one happy. Well, that's a complicated theory. Anyway, seeking riches or happiness for myself can be rather meaningless. I prefer to share joy. So thanks for sharing my joy by reading what I have found!
Get it at CafePress.
3. I love Chinese New Year T-Shirt (for Her)


"I Love New York" (I ? NY) was made famous in 1977, and it seems like variations of the logo is still in trend!
Get it at CafePress.
4. Bun Luck (Ace & Queen)

Bun Luck refers to Chinese Blackjack or a situation in the game where a player wins the dealer immediately. Whether you gamble with your friends and relatives this Chinese New Year, when you put on this t-shirt, it will most certainly tickle them!
Get it at wetteeshirt.co.
5. Huat's up
Huat is Hokkien verb that usually depicts prosperity. This pun can be  used both as a Chinese New Year express good wishes and as a greeting to those friends and relatives we probably meet once or twice a year. What's up?
Get it at wetteeshirt.co
6. Keep Calm and Huat On
Keep Calm and Carry On was a motivational poster produced by the British government in 1939 in preparation for the Second World War. Whether it is 'huat on' or 'carry on', give thanks in all circumstances.
Get it at wetteeshirt.co
Lontong is a dish made of compressed rice cake in the form of a cylinder wrapped inside a banana leaf, commonly found in Indonesia, Malaysia and Singapore. It is a pun on 七个隆咚锵咚锵 (qi ge long dong qiang dong qiang) which comes from a 1956 song "拜年" and sounds like clanging cymbals. It's also a reminder to show love with actions, and not just talk about it.
Get it at Temasekclothings.
Gong xi or 恭喜 (Chinese) can be translated as "May you be happy", while  Gong simi (Hokkien) is loosely translated as "What are you talking about?".
Get it at Temasekclothings.
How cool are these? Get one today!